Forget making such a complicated content strategy! 
The effort to build new content ever so often is a thing of the past in SEO. According to the top content marketing experts, you can grow your website's traffic ten-fold with just one trick! 
What's the best thing about this content strategy hack is that your team doesn't have to spend so much time churning new articles for content creation.  
So, what's the secret? It's all about content repurposing — the art of turning 1 article into a sea of online content! 
Learn how to save time and reach a new audience by repurposing your current content strategy in this article! 
What Is Content Repurposing?
If you're a content marketer in healthcare, you know there's always so much to do in your content strategy, but only have such little time. 
Updates on your clinic's products and services, news on the latest medical technology, and health guides for your patient base — you aim to deliver high-quality content to captivate your audience and turn them into your patients. 
But, why invest your time in constantly creating content, when you can just repurpose your old ones? 
Content repurposing is a content strategy trick where you can turn one form of content into another. 
If you can catch the attention of potential customers on other platforms like social media or podcasts, you can drive them through your funnel and turn them into your patients.  
The biggest value you can get from repurposing your content is saving time and resources! 
You don't need to start from scratch. Instead, you can just do a few touches to your evergreen content and you're all set to scale your traffic. 
Benefits of a Repurposed Content Strategy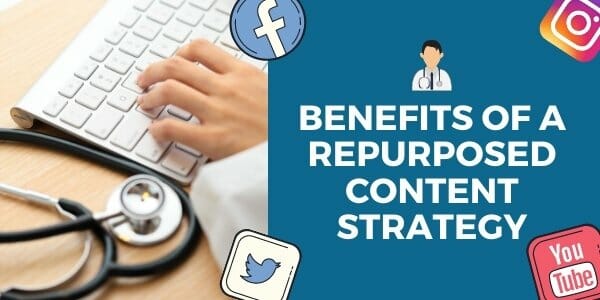 1. Get a boost in your search engine rankings 
If you produce similar content and target a specific keyword, there's a greater opportunity for you to dominate in the search results. 
The repurposed content can also act as a link building opportunity and help send link juice towards your site. 
Getting more links and producing repurposed content are just a few of the easy tricks you can do to get to the top of Google's search engine rankings. 
2. Widen your audience reach 
Content marketers tend to give focus mostly on website content, but forget to maximize other mediums like social media or email marketing. 
Repurposing your high-ranking content on your website to other forms like social media posts, webinars, or youtube videos will help you reach a wider audience. 
3. Become the authority figure in your niche 
Strategic content marketing involves creating content around a specific keyword to gain authority in your niche. 
Publishing quality content in a variety of places on a single topic can help raise your profile in the industry and gain authority as an expert. 
How To Find Content That's Worth Repurposing? 
Content repurposing may sound simple in theory, but the challenge lies in the right execution. 
When marketing content, it's best to incorporate repurposing at the core of your content strategy. But, what's the most effective way to do it? 
Here's our 3-step guide to content repurposing! 
Step 1: Find Your Evergreen Content 
Before you dive into branching out your content, the first step you need to do is to look back at your current content marketing strategy. 
Did you create content on the latest trends? Or have you been publishing content that's guaranteed to last through the times? 
When it comes to finding the best blog posts and pages to repurpose, choose content that's evergreen in nature. 
These types of content should remain valuable and relevant over the months (or ideally years).
Step 2: Prioritize Your Most Popular Content 
When you have a piece of content that's blowing up online, you might have kept it just the way it is just because it's performing well. 
On the contrary, your most popular blog posts and pages are the ones with the biggest potential for content repurposing. 
Check your Google Analytics and see what your most popular posts have been over the past year. 
Why did those posts perform so well? Find out what works to help influence your repurposing marketing plan.
Step 3: Look Back at What Needs to be Updated 
When was the last time you looked at your old content? Chances are, a few of your posts from the past are likely to be outdated. 
Take advantage of the content that needs updating by repurposing them. 
5 Genius Ways To Repurpose Your Content
1. Build An Infographic 
Long informational blog posts have been an old trick in content marketing strategy. 
However, in this day and age, people don't have much patience anymore to read a page with 2000-words of content! 
To maximize your data but still captivate your audience, you can summarize and visualize this information through an infographic. 
Infographics can be easily made nowadays, without the need of a graphic design team.  
Programs like Canva, Piktochart, and Visually have made it possible for non-designers to create their own infographics. 
2. Craft a daily email series
Are in-depth articles part of your content strategy? DIY, FAQ, and tutorial posts are the best types of content to repurpose! 
One way to turn your long-form content into bite-size pieces is by crafting a daily email series. 
Email opt-ins and campaigns are tried-and-tested methods to collect new leads and subscribers. 
Take this post you're reading, for example. Each of these repurposing methods could be an email of its own by adding a few more instructions, examples, and photos. 
The foundation is already in place for a 12-day email series on extending the life of your content.
MailChimp and Campaign Monitor are great platforms to set up these email campaigns. 
3. Turn Your Webinars into Video Tutorials 
Webinars have grown exponentially in 2020. With many of us stuck at home, the best way to continue marketing your business is through virtual events like webinars. 
If you've been hosting successful webinars and repurposing them after, you're missing out! 
Don't let that great webinar go to waste. You can repurpose that webinar as a YouTube video, ensuring that your great content lives forever.
Not only will that asset be great on your website, but you may drive new visitors to your site via YouTube!
4. Make Your Podcast Into A Blog Post 
There's a reason podcasts have become so popular over the years. 
A season content strategist knows that a single episode becomes a gold mine for repurposed content! 
If you've just started podcasting, turning the episode into a blog post should be a fundamental part of your content marketing strategy. 
You don't even need to spend so much time transcribing videos anymore. Programs like Descript come in handy as they can automate transcribing and editing for you! 
5. Convert your content into guest posts 
Creating authority-building content is one thing in healthcare SEO, but ultimately a lot of your SEO efforts would fall back on link building. 
If you already have quality content, the best way to repurpose it is through guest posts. 
Not only will this be a way to promote your content, but you'll also be creating high-quality backlinks to your site. 
Rewriting the entire content is the most effective strategy. However, you can also break up your original post and expand on these topics through a guest post outreach. 
Revamp Your Content Strategy and Build Your Audience with Content Repurposing! 

Don't just stick to producing a new article for your content strategy. Maximize your existing content by repurposing them to different forms of media. 
Whether it's a podcast, YouTube tutorial, infographic, email series, or guest posts, a single cornerstone article or blog post can definitely be turned into a sea of online content. 
In this way, not only will you be maximizing your time and efforts, but you'll also attract a new audience and lead to your healthcare business. 
What's your content strategy looking like nowadays? Is repurposed content a part of your content marketing efforts? 
Let's have a conversation on the comments below and share with us your experience!