Each year, many medical practices end up in stressful financial situations, including falling reimbursements and bankruptcies. 
In 2019, the failure rate of startups was around 90%, and one of the main reasons include running out of money. Although healthcare startups have the highest survival rate in the small business industry, financial mistakes can still be fatal. 
This year alone, 29 hospitals in the USA have filed for bankruptcies as of June. Considering COVID-19's impact, America has lost $202.6 billion in healthcare from March-June 2020, according to the American Hospital Association.
Effective management of your finances at the onset of medical practice helps mitigate future financial risks, even during a crisis. Having a budget allows a healthcare practice to monitor financial results and make necessary adjustments to improve it.
We spoke with two healthcare experts – David Zetter of Zetter Healthcare, and David Sanchez, RN, of Digitalis Medical – about their insights in managing a budget in medical practice, especially for startups. Read on to learn more about budgeting for small healthcare businesses!
4 Steps to Budgeting for a Medical Practice 
Step 1: Budget Development
Budgeting helps all practices understand financial trends within their business – from revenue-generation to cost-management. 
To develop and calculate the right budget, you need to consider the following steps:
1. Determine Where You Would Like to Use the Budget
What are the operational triggers that you should consider when planning the budget of your medical practice throughout the year? 
These triggers may include logistics expenses (including medical supplies), permits, insurances, marketing, and your long-term service goals.
2. Determine Your Budgeting Method
There are two budgeting methods for businesses – the historical and zero-based budget. 
The historical practice budget is based on the results of the previous period or years, adjusted based on patient volume. For startups, three years of history is optimal in gathering historical financial data. 
Zero-based practice budget is for those new businesses who are starting from scratch, with no historical look-back.
3. Understand the Concept of Revenue and Expenses
There's a lot to learn about revenue and expenses in a business. In medical practice, revenue streams are based on patient volume and visits.
Break down your expenses into variables and fixed costs. Variable costs, such as office and medical supplies and clinical wages, depend on your practice volume and patient visits.
Fixed costs are the expenses that you need to keep paying, regardless of your patient volumes, such as rent, salaries, and equipment lease.
Make sure to keep your revenues and expenses balanced as any changes in either factor will affect the other one. 
If you plan to increase your practice's revenue, the expense budget has to be adjusted as well.
4. Review Your Contracts With Managed Care Providers and Service Contractors
Use your budget planning process to review your contracts with managed care organizations and service contractors. Check if the quality and level of their services are fair with their fees.
If possible, renegotiate your contract to reduce costs.
David Zetter's Tips in Budget Development for Startup Medical Practices
Utilize Validated Statistics
Build a true, reliable budget utilizing validated statistics (specialty specific) to build out an income statement with full revenue projections, all-expense line items resulting in profit/loss bottom line.  
Take it a step further and build out the budget to a full proforma with additional sheets that break out staffing and expenses, assumptions for all startup expenses and financing requirements, amortization schedules, and first-year revenue progressions. 
Recommended Softwares and Systems for Budgeting
We utilize a proprietary Excel workbook to build budgets and proformas but I suggest utilizing accurate and reliable benchmarks or statistics to assist with budgeting or utilize expert advice from consultants that do this often.
Additionally, I recommend the following: QuickBooks, EHR/Practice Mgmt Software, Patient portal if not included with EHR with secure texting or separate messaging system, online compliance training and education, operational and revenue cycle policies and procedures, electronic insurance verification and eligibility of benefits, expert provider enrollment/credentialing/contracting services.
Seek help from an expert
The last recommendation is to understand all the sheets, the numbers, and how any change affects the income statement and be able to explain it. If this seems like too much work, hire a reliable and knowledgeable consultant to assist you.
David Sanchez's Expert Tips in Budget Development for Startup Medical Practices
The Planning Stage
The planning stage can last anywhere from 3-6 months to many years, depending on the size and scope of the organization and the complexity of the business or revenue model. 
It's better to consult experts in different areas to you on your young medical practice:
Healthcare business consultant – to optimize your business model, workflow, staffing, and profitability. They can also guide you to avoid spending your budget on something that you don't need.
Healthcare marketing expert – to help you establish a growth strategy for your practice, identify your target market using data-driven information, and build your business accordingly.
Billing specialists – for your billing needs.
Hire the Right Staff
Get staffing right from the very beginning!
Start with a Practice Manager, HR Manager, or COO who will be primarily responsible for screening, interviewing, training, and hiring staff.
Make sure you establish solid criteria for hiring and be involved in the interviews early on! Otherwise, your hiring manager will not have the same vision or ideal candidate in mind, and you will wish you would have done it all yourself.
Step 2: Budget Monitoring and Review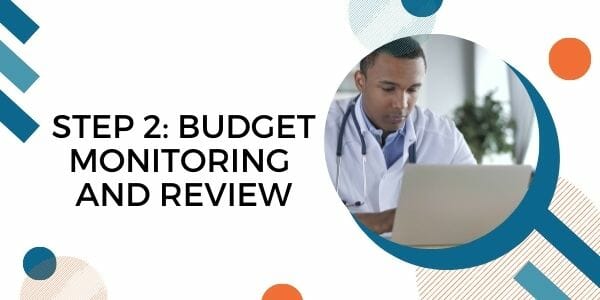 Once the budget is rolling, monitor it regularly. Observe the trends and compare the actual results to the budgeted results every month.
Trends showing declining revenues and increasing expenses can be worrisome. 
For example, if the staff and clinical wages exceeded the budget, there should be a relevant increase in your revenue. If not, maybe the overtimes are not managed accordingly.
Discuss and review the trends and results with the management frequently. Trends and results may vary every month, so you need to update your budget from time-to-time.
David Zetter's Tips in Monitoring and Reviewing Budget in Medical Practices
The smart thing to do is to be conservative in an office lease, fit-out, and furnishings and do not add staff in your budget too soon, but be smart about all expenses. Spend the money where it counts on equipment and technology, but stay within your budget.  
Medical billing will be an expense whether you have in-house staff or pay a billing service. Either way, this is where cash flow is made and broken. If you don't know what happens here, ensure you have someone that can provide oversight to in-house or outsourced billing. 
There are few billing departments or services that do a perfect job. 
Step 3: Update Business Development Strategies
Formulate and discuss your next plans with the management team too, including your projections for the next months or year. 
Create a wish list of purchases that you think would improve the efficiency of your medical practice. 
Consider these factors when deciding which among the items on your wish list will meet your business goals:
Cost-efficiency
Benefits to the patients
Budget friendliness
Budgeting is always a work in progress. 
While analyzing your trends and results regularly, it's best to take note of your projections for your mid-year or year-end budget planning. This will help your practice to set, adjust, and execute your goals more efficiently.
David Sanchez's Tips on Business Development Strategies
Who will make sure you get a steady stream of referrals? This person will connect with other perfect referral partners so they 
Know you exist
Like you better than every competitor
Think about you every time they have a patient to refer
Many times this falls under the responsibility of a member of the management team but is often neglected.
Independent sales reps often are very well connected in a region or specialty and love connecting providers who can support each other with referrals.
Step 4: Execute Necessary Adjustments
It's always a cycle of planning, reviewing, and executing adjustments to improve your new business and achieve your goals. 
The budget is only valuable if it is being monitored and reviewed regularly, and if necessary actions are being executed properly.
Find the Right Partner in Your Practice
Budgeting is the cornerstone of every business. If it's done correctly and observed regularly, it will surely benefit your practice's present financial health and future advancements.
Similar to the experts' tips, finding the right partner in your practice is essential in building a realistic budget and eventually, stabilize your brand in the healthcare industry.
Your marketing strategies will also play a huge role in your practice. Make sure to pay attention to it whenever you update your budget and goals.
Improve your digital presence as you improve your services and patient experience. It's the perfect recipe for a strong reputation in the healthcare scene.
If you need an expert partner to help you with your healthcare marketing, Digitalis Medical is here for you.
Our team of seasoned digital marketers is here to effectively come up with marketing strategies that will drive more sales to your healthcare practice in a cost-efficient manner. Contact us today to know more about our services.
Do you have any questions or insights about budgeting for medical practices? Share it with us in the comments section below!