Patients today have many options while seeking healthcare providers. How can you make your practice stand out from the wide range of options? It's time to make sure you're taking advantage of online reviews because 91% of younger customers trust these more than personal recommendations. 
Review websites for doctors are a fantastic way to promote your business online and spread the word about how wonderful it is to patients looking for care.
The 10 Most Popular and Recommended Doctor Review Websites
If you want your practice to grow, the top 10 doctor review sites you should keep an eye out for are:
Google My Business
Vitals
HealthGrades
WebMD
RateMDs
Yelp
ZocDoc
RealSelf
CareDash
Facebook
Google My Business
Local businesses may manage their online reputation across Google Search and Google Maps with Google My Business, a crucial platform. 
You can get all the fundamental local information about a business and its healthcare services using Google My Business, including its address, phone number, and online patient reviews.
According to a Forbes report, 92% of individuals prefer a business that shows up on the first page of Google search results.
Vitals
When it comes to doctors, hospitals, specialists, treatment and recovery facilities, urgent care clinics, and other health professionals, Vitals contains 7.8 million reviews and ratings. It recognizes medical professionals that frequently obtain top ratings using a badging system, such as Top 10 and People's Choice doctors.
With Vitals, you can discover how long health professionals have been in practice, as well as their credentials, specialization, locations, hospital affiliations, and educational background.
Moreover, you will also see information if the provider is accepting new patients.
HealthGrades
HealthGrades calculates the percentage of people who recommend a specific doctor. A list of local professionals can be sorted according to the doctor's location, gender, quality of patient reviews, and type of insurance they accept.
You can also look for the number of hospital affiliations, office locations, languages spoken by the medical staff, as well as their training, education, certification, and licensure.
WebMD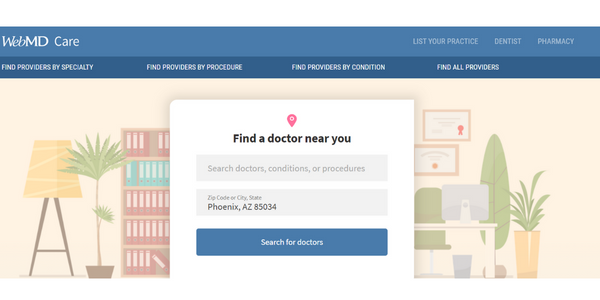 WebMD has a hospital and physician directory, along with factual information and public forums that let you find nearby healthcare organizations by using doctor ratings and online reviews.
Check to see if your information is correct, thorough, and up-to-date, much like other websites that feature doctor reviews. Make sure all of the practice locations are listed because many WebMD doctor search fields will appear with the region already filled in.
RateMDs
RateMDs makes use of a five-point scoring system. On this doctor review site, you can read the provider's most recent review, the average rating out of five, and the number of ratings.
You can narrow down your search by the doctor's gender, area, and specialty.
In addition, you can also get information about the doctor's hospital affiliations, educational background, availability for new patients, and the languages they speak.
Yelp
Office, hospital, and doctor reviews are now included on this popular business review site. Each review is automatically evaluated by Yelp based on the site's credibility, usefulness, and user activity.
Active members of the Yelp community routinely post these beneficial reviews. You can use the Yelp website or app to search for the name of a possible healthcare provider and learn about their ratings.
ZocDoc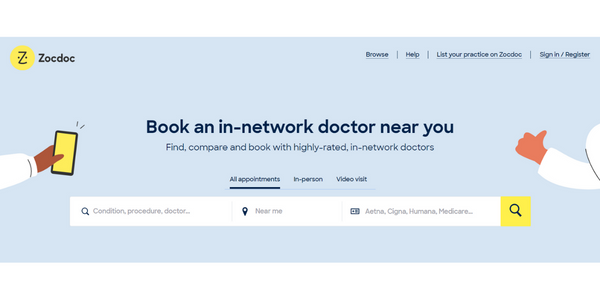 You can look for doctors on ZocDoc by their specialties, services, workplaces, credentials, and more. Members of their premium plan can also book appointments online right away.
Furthermore, you don't need to be concerned about the credibility of doctor reviews on this platform because ZocDoc appears in the top results for 120 million doctor searches every year.
ZocDoc was created by medical professionals; therefore, they are aware of how to maximize time with old, new, and potential patients. The more information you can provide about your practice, hours, specialties, and experience, the better. This also applies to other websites that allow patients to review providers.
RealSelf
Patients can debate various treatments in-depth on the community platform RealSelf, where they can also evaluate and rate doctors. RealSelf confirms that reviewers are legitimate patients and permits them to publish reviews anonymously using a fictitious name.
A doctor directory is also available on this platform, and it is organized by region, treatment type, and specialty. The website allows you to set up direct appointments with doctors and communicate with them online.
CareDash
Patients have a secure space to publish reviews and see what others have to say about different healthcare providers on CareDash, which promotes itself as one of the most transparent physician review sites.
On the CareDash website or app, you can read patient ratings of potential doctors and communicate with them.
Facebook
With billions of users around the world, Facebook is the largest of all online review sites. In order to gauge their patients' pleasure, many healthcare providers have the Facebook Reviews app installed and enable the features on their Facebook pages.
The great thing about Facebook is that the majority of us already have accounts, making it simple and quick to leave a review. As a result, finding your preferred healthcare provider and reading customer reviews on the doctor's Facebook page is easier for most patients.
How to Manage Online Review Sites
There are many different doctor review websites to choose from, but you must be careful when using them. Many people are hesitant to request reviews because they worry about what would happen if a patient who is upset leaves a negative review. It turns out that negative reviews offer a fantastic opportunity to demonstrate your level of care to potential patients.
Getting reviews is only one aspect of managing one's online reputation. You also need to know what to do after this in order to turn prospective patients into clients. 
In order to get reviews on the top doctor review sites, follow this strategy:
Create a Plan
Determine the method and frequency of your review requests. Avoid any unethical tactics, such as buying reviews.
Furthermore, include links in every electronic correspondence to make it simple for clients to post reviews.
[Read: How to Do Search Engine Reputation Management in Healthcare (Successfully)]
Respond to Positive and Negative Online Reviews
Make a decision regarding how you will handle people who leave reviews before they start to come in. All reviews should be promptly acknowledged, but some require a bit more. 
Is a patient upset with the way that appointments are set up? Offer assistance and solutions. 
Bringing up a personal health issue in a public setting? Send them to your office for additional help.
Keep in mind that each review is written by a real person who has dealt with your practice. Thank them for their time and effort in helping to address the negative and reinforce the positive by doing so. Establish definite days, times, and personnel to handle reviews, and be reliable in doing so.
Direct Discussion to Email or Phone to Protect Personal Health Information
Even if a patient discloses their whole medical history in a public forum, HIPAA regulations still apply to your business and forbid you from disclosing private patient information online.
Leave your contact information in your response or request that the patient phone you to speak with you confidentially about their concerns.
FAQs
How Do I Check the Reputation of a Doctor?
Patients can use doctor review sites to check the reputation of a particular physician. Compare one doctor's credentials to another and any other information you might be interested in. However, make sure that the site provides up-to-date information.
Are Online Doctor Reviews Reliable?
It depends on the site. While there are numerous reviews that offer accurate opinions, others cannot be trusted. Therefore, use a verified and reputable doctor review site if you want more information on a particular healthcare provider.
[Read: Internet vs Doctor: Why Most Americans Prefer Google Over Their Physicians]
Are Reviews Helpful in Determining a Doctor's Online Reputation?
If you don't see the benefit of online reviews and are still doubtful about the importance of review sites, take into account the statistics below:
BrightLocal – 49% of people trust online doctor reviews as much as personal recommendations.
Software Advice – Responding to concerns directly (without breaking HIPAA restrictions) is a wise move because 66% of respondents believe it's "extremely" or "moderately important" for providers to openly address online evaluations.
Software Advice – Approximately 71% of people use online patient reviews to find doctors.
Online review websites are undoubtedly here to stay. People have been using them extensively to choose restaurants and hotels, so it will only be a matter of time before patients start doing the same when choosing a healthcare practitioner.
The Key to Improving Your Patient Experience and Overall Success
Whether you are a new healthcare provider or not, more and more people are turning to the internet to gather valuable information about practices and find doctors.
Providers must constantly create patient experience strategies that are captivating and go beyond generating improved health outcomes in order to inspire loyalty and foster preference. The first step in doing this is establishing your presence on the top doctor review sites and monitoring patient feedback.
For more insights about the latest in healthcare marketing, visit the Digitalis blog.