Are you looking for the most effective ways to increase your patient base?
You might be missing a huge opportunity to engage, connect, and build trust with your potential patients right now.
Did you know that doctor reviews from your patients can have a powerful impact on your online reputation? These can influence their decision to make an appointment with your clinic.
Keeping a pulse on these reviews and getting involved in the conversation are powerful methods to gain trust with potential patients, as well as retaining the ones you have. 
Doctors, it is time to pay attention to what your patients have to say online! 
Showing that you are listening and caring for your patients' needs will help build a strong online reputation for you and your practice.
Keep reading to learn more about the reasons why your online reputation matters and how you can best improve and protect it.  
(1) The Old Vs. The New Economy and Its Impact on Your Reputation
Does this sound like you:
"If I provide a high-quality service to patients, they will appreciate my work and refer other patients to me….

… this cycle of good referrals will continue, I will have a good reputation in the community, and life will be good. This will happen automatically."

If you have thought these words like other providers have, then you are stuck in the old economy way of thinking. 
The old economy was based on the traditional, yet still valuable, word-of-mouth advertising approach and a heavy reliance on patient loyalty.
Things are not the same in today's age.
Welcome to the new world where everything you, your staff, even your medical facility does is subject to criticism on the world's largest stage – the Internet. 
Your word-of-mouth campaign just went from a coffee table conversation to handheld devices worldwide!
Maybe you're asking, "what can I do about it?" 
Glad your wheels are turning. Stay with us as we dive into the importance of doctor reviews and ratings and how to protect your reputation.
(2) Cloud-Based Opinion – Doctor Reviews are Subject to Go Viral
Coming out of the old economy train of thought and into the new world thinking era, your reputation is, unfortunately, based on the public cloud-based opinion. 
Facebook, Google, and Yelp are among the top review platforms on the Internet. 
Consumers use these arenas to blow-horn their good and bad experiences about products and services from retailers and service providers – including medical practitioners. 
As you may know, there are even service-specific "rate my (fill in the blank)" websites. 
For medical professionals and hospitals, these are some of the most popular sites that patients use to give ratings and reviews on doctors:
RateMDs.com 
HealthGrades.com
Vitals.com
WebMD.com
These websites are often visited by those on the search to find a doctor, top hospitals, urgent care treatment, or practitioners of a specific specialty. 
The ratings gathered by these websites are analyzed and ranked to show which doctors they should trust and receive treatment from.
How Do Doctor Reviews Affect Your Medical Practice? 
It depends on the quality, validity, and the quantity of the reviews. 
It is normal to have some apprehension over what is being said about your medical practice online.
But, there are ways for your to be part of their conversation, to step in for quality control, and to positively engage with your patients.
Since there's really no way to escape the public cloud-based opinion, you may as well take the information that is being discussed about you, your staff, and facility and use it to enhance the health of your medical practice and services. 
Keep reading, we will discuss these methods later on. But first, we must address the trolls under the bridge.
(3) Trolls and Public Dissenters Can Really Damage Your Business and Reputation
As trolls have a bad reputation in fairytales, online, they impose a threat on your reputation via review sites. 
Social media and review platforms create a stage for consumers to voice their opinions without much restraint.
These platforms also make your medical practice much more vulnerable to trolls and public dissenters. 
These commentators put in an effort to try to disvalue your practice, your services, your expertise, your staff, and your reputation. 
Targeted negative reviews may stem from a negative experience in the office, like differing opinions or a less-than-ideal interaction with a staff member. 
It may even be rooted from a personal vendetta (some individuals enjoy ruffling feathers, to say it nicely). 
Your troll may even be an ill-intentioned competitor.
The fact is, every medical practice can fall prey to negative, harsh, and slandering reviews, which may harm your reputation. 
Do you know EVERYTHING that is being said about your practice online? 
(4) Your Reputation is at Stake if You Don't Participate
Have you dealt with trolls damaging your reputation online?
As you are reading this right now, your target patient audience is typing in a search to find the top-rated doctors and hospitals on review sites. 
They are looking for guidance to help them choose where to get the best medical advice and care. 
The opinions of strangers online can highly influence their decision.   
To be more specific, 84% of online review readers trust what is written as much as they trust recommendations from a personal reference.
If your reviews are plagued by a troll, they will be less likely to make that call.
You need to get involved in the conversation. Your voice matters, too! You can play a big role in buffering and protecting your reputation. 
Staying on top of your doctor reviews from your patients, moderating them, responding peacefully and with a solution may be the best steps to dealing with trolls and unhappy patients. 
On the flip side, if you don't have any or many reviews, then your potential patients cannot form an opinion about you!
There's more to come on how to get more reviews and the best approach to monitor them. 
(5) Patients Don't Trust You Until They Trust You Online
You understand that you are in direct competition with other doctors in your area and with those who specialize in what you do. 
Now, this is where doctor reviews come in to help your medical practice grow. 
Much like the typical consumer, your target patient base is in the market to find doctors that are highly recommended by others. 
It is a natural human tendency to want what others have, including top-quality doctors who provide astounding care for their patients….ahem…like you.
Here are the stats that back up that claim:
One survey asked 1,000 US adults about their use and trust of online doctor reviews and ratings.
The findings:
"95 percent of respondents …found online ratings and reviews somewhat to very reliable."

"70 percent said that online ratings and review sites had influenced their choice of physician."

"41 percent said they still check a doctor out online, even if they were referred to them by another physician."
The majority of the respondents said they checked the hospital's website first to read patient reviews.
Google reviews, WebMD, and Healthgrades were other popular doctor review sites that were consulted. 
What Do Studies and Surveys Say About The Impact of Doctor Reviews? 
The Journal of Medical Internet Research published the findings from the Insights Into the Impact of Online Physician Reviews on Patients' Decision Making: Randomized Experiment.
"Our analyses indicated that a higher number of reviews resulted in a more positive attitude toward the rated physician." 

Not only do written reviews have influence but the number of stars a doctor receives in a rating has power too. This is based on the findings of a survey about how patients make a decision on a doctor from quality reviews.
Another recent survey studied how reviews influence consumers' behavior. The findings: more positive reviews led to more trust with a business. 
"Positive reviews make 91% of consumers more likely to use a business, while 82% will be put off by negative reviews."

The survey reported that consumers were less likely to choose businesses with negative feedback or poor ratings, as it impinged the trustworthiness.
(6) Doctor Reviews and Ratings Impact Your Rankings with Google
Another valuable method to gain trust and credibility with your potential patients is to improve organic and local search rankings with Google. 
The higher you are in the results list, the more likely your patient market will click to your site.
So how much of an impact do your doctor reviews have on how high your site is ranking?
Moz conducted a survey to see what local search ranking factors played the biggest role in increasing traffic to websites and in conversion rates.
Moz reported that reviews have a 15% impact on your website's ranking. The importance of these reviews has increased dramatically from the year 2015 to 2018.

Simply stated by Darren Shaw at Moz:
"Reviews will boost your rankings, but reviews are so much more valuable than that because a ton of positive reviews will get people to pick up the phone and call your business, and really, that's the goal."
Take it from the horse's mouth – Google even tells you on their support site that they will value you if you value your patients! 
Google wants to see you taking part in the conversation with your patients by responding to their reviews and interacting with them.
The search-engine mogul also considers how many reviews your facility has and how often you receive them. 
That is why they encourage you to be proactive with your patients by sharing an easy way for them to write a review. This is as simple as emailing or texting a link to where they can review and rate your medical practice and services.
Google also endorses, "High-quality, positive reviews from your customers will improve your business's visibility and increase the likelihood that a potential customer will visit your location."
(7) How Real Patient Reviews on Your Website Increase Trust, Leading to That Phone Call and More Patients
Did you know that some healthcare businesses cheat the system by paying for good reviews?
However, your patients are smarter than that. The typical consumer sees right through the fluff.
With real patient reviews, there is an element of emotion behind what is written. They trust reviews that are naturally relatable with others. 
Interestingly, the majority of review-readers only need 1-6 reviews before their mind is made up to call you or not. 
Examples:
If a patient received treatment and care that was above and beyond, that patient is more than likely happy to give you praise.  As a result, your potential patients reading this review feel an immediate assurance to trust your medical capabilities.
If there is a review that doesn't shine the light on your practice, but you pipe in to acknowledge a mistake and provide a resolution, the trust is still there!
You see, as your potential patients haven't met you yet, online reviews will have a mass impact on how they perceive your medical practice's trustworthiness and credibility.
Digitalis Simplifies Doctor Reviews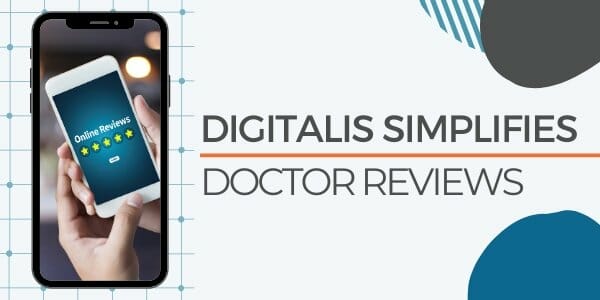 There are a lot of sites available for patients to review and rate their doctors. You may be overwhelmed with how you are going to find and keep track of them all.
Not to worry, Digitalis Medical has the tool just for you to help manage these golden-nugget, reputation-boosting reviews. 
How Our Review Tool Works
It is an easy software program with a navigable interface. The dashboard provides all the tools you need to review, respond, and post reviews directly to your website.
Take a look:
Real, Live Patient Feedback
Our solution pulls data from WebMD, Vitals.com, Healthgrades, and other online doctor review sites, so you can easily read through all the patient feedback in one place.
Pick the reviews that really highlight your practice and incorporate them right onto your website. 
Displaying feedback from real people will give potential patients an idea of what to expect from your facility providers. 
Increase Your Doctor Reviews with the Review Automation Feature
Our review automation system makes it easier for your patients to rate you online. It sends an automated link via email or text where your patients can easily leave reviews. 
Within your dashboard, you can customize when and how your patients get a prompt to share their experience with your facility. 
This goes a long way in patient retention too.
By giving your patients the opportunity to share their feedback with you, you can nip any problems in the bud right away! 
You can step in and appease a situation before your patient has time to blast you on social media! Well, that would be ideal.
Receiving this valuable information from your patients will help you to provide the utmost care and services for them, plus increasing their trust with you as their respected healthcare provider.  
Evaluate How Trustworthy You Are with the Net Promoter Score 
Of course, there's also a tool to measure how much your patients really trust you! 
The Net Promoter Score tool evaluates your patients' satisfaction based on their experience with your facility, staff, and providers.
It also gathers how likely they are to recommend your practice to others, which they will only do if they truly trust you.
Based on the customer evaluation, predictions on practice growth and revenue can also be calculated. 
HIPAA Compliance is Critical, So You Can't Use Every Tool Out There
It needs to be said and reiterated when working in the medical field. HIPAA Compliance is a must when working with patients, including getting their feedback.
There is a lot of information on how to stay within HIPAA Compliance when responding to your patients' reviews.
When working with us, protecting your patients' privacy is a top priority with the implementation of our Digitalis Reviews Solution.
Our tool uses 128-bit SSL encryption to safeguard PHI (Protected Health Information).
Let's Boost your Reputation Online
Digitalis Medical specializes in online marketing for the healthcare industry. 
We work alongside doctors to improve their website's performance by implementing the best SEO practices to increase traffic and conversion rates.
How has receiving patient reviews helped your practice grow? We would love to hear your thoughts and comments.
Share your thoughts and experiences below!