Most people have turned away from direct mail campaigns and focused more on the internet. That trend has moved to healthcare practices, and you may want to shift your medical practice online for the best results. 
In fact, Google gets over one billion healthcare searches each day. Roughly 80 percent of all internet users go online to look up health-related topics.
If you've got an online presence, that's the first step. Email marketing for doctors can also help you get the full benefits of digital healthcare marketing. 
For example, you can schedule patient visits, keep in touch with past patients, and constantly contact those who require your services. Other marketing channels just don't allow that for medical professionals.
Marketing emails aren't as easy to create as they seem, and you want something sustainable for future campaigns. It must also be a cost-effective, time-saving, and direct way for people to request medical services.
Email marketing campaigns are the wave of the future for medical clinics and other medical professionals. These 10 tips can help you take this strategy to the next level for patient engagement and acquisition to make the patient's journey easier.
Top Tips for Successful Email Marketing Campaigns
Whether you've created an email campaign before or have just started, here are the top 10 tips to be successful in the healthcare industry:
1. Have the Right Email Marketing Strategy
Regardless of the specialty or practice type, your time is limited. You've already used much of your marketing budget on your website to create pop-up forms and landing pages. It's easy to list new services and tell your audience that you've got a newsletter.
You're only asking for an email address, but that's pure internet gold now. Therefore, it's wise to promote good health practices with free guides or offer discounts on future visits. For current patients, you may provide appointment reminders through email to make it easier for them to set up care at your healthcare practice.
[Read: This Is Why Email Marketing Still Outperforms Social Media]
2. Segment the Audience
You can send emails about various topics, but some people might not be interested. For example, baldness only affects a handful of patients, so you should focus on segmentation. This creates categories within the broad audience to send emails to the right people.
Mayo Clinic, for instance, gives its audience a choice upon signing up for its free newsletters. Users can customize the type of content they want to receive— from health and research-related topics to orthopedics and sports medicine updates. They can even subscribe to Mayo Clinic's philanthropy news and exclusive event invitations.
This technique allows the practice to send the right marketing messages to the right people.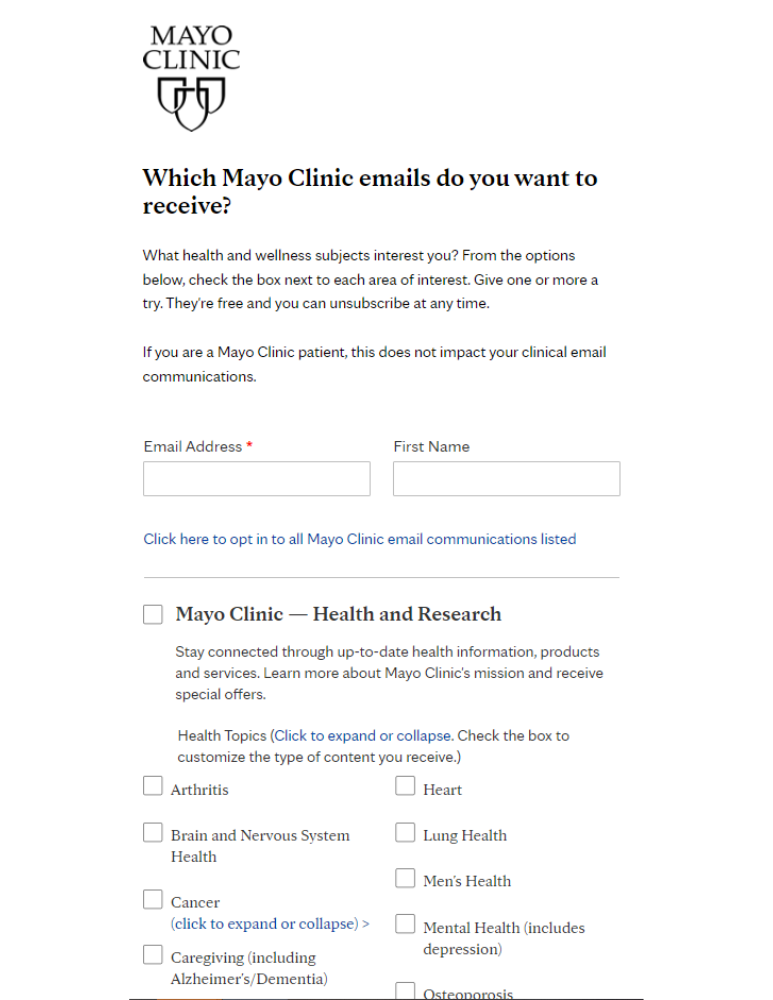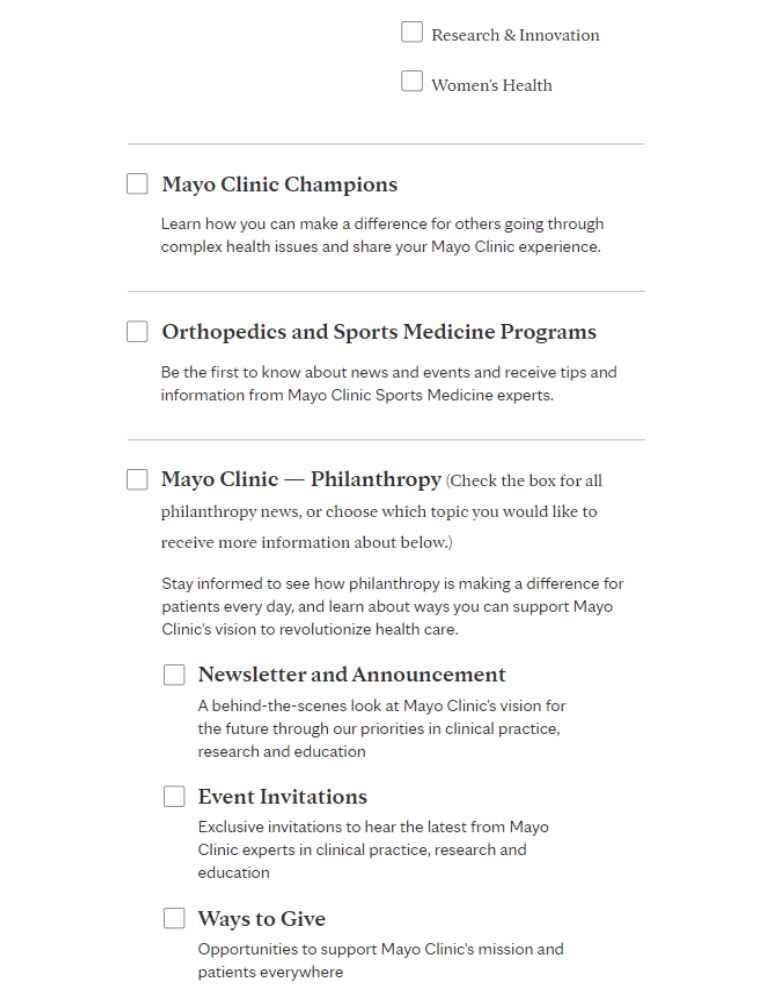 Once your list has grown, create different segments based on the criteria that meet your needs. Common ones include:
Purchase history
Engagement level
Health issues
Personal information (location and age)
3. Use Automation When Possible
When someone joins the list, send them a simple welcome email. That's easy to do when you've only got two to three newbies each day. However, it becomes impractical when you're scaling the marketing and have thousands joining all the time.
You can create rules in your email marketing channel to automatically send emails. However, that's just one example. Automation workflows help you build email series that get triggered by specific conditions, such as when someone doesn't open an email from you 10 times.
Automating alerts is also helpful for you because you see where each person is on their patient journey.
4. Create a Valuable Email Marketing Campaign
You may utilize the best technology and have tons of strategies to get those email addresses, but your email list might dwindle if you don't offer value. In other words, don't send an email just because it's the appointed time, or you might turn away existing patients.
Behind the mobile device screen, there's a human who likes good deals and wants to learn new things. This is the easiest way to get prospective patients to use your services. However, you can't just provide sales. It's important to offer helpful information. Generally, a good balance is to send free content 70 percent of the time and use promo/sale emails 30 percent.
5. Find the Right Frequency
It depends on how you're interacting with the audience to determine how frequently you should send emails. Most online marketing gurus claim that once a week is best because most people clear out their inboxes during the weekend. However, once a month works if you're already popular. Consistency is the keyword here.
What Is the Best Time to Send an Email to a Doctor?
If you must email other doctors as part of your digital marketing efforts, it's best to do so on Tuesdays at 10 a.m. or Wednesdays at 2 p.m. Generally, these times are when doctors take breaks.
Set up your email campaigns to send correspondence during those times to be more efficient and have a better chance that the doctor will open the email.
6. Use a Mobile-friendly Design
Most people use a mobile phone to check emails while commuting or in line for coffee. Therefore, your email must be designed for mobile devices. The text size, buttons, and images should adjust based on the screen.
When using email marketing software, it's easy to focus on mobile devices by using a responsive template. If possible, preview the email first to see how it looks.
Google rewards websites that focus on mobile phones because that's how most people search. Mobile-first indexing is here to stay!
[Read: Six Ways To Boost Your Healthcare Website SEO in 1 Month]
7. Include a CTA
Your goal is likely revenue and engagement, so your strategy has to be perfect, and each email you send must have an objective. For example, you might want more readers to visit the blog or offer treatment instructions with email automation.
Therefore, every email you send must have a call to action (CTA). This increases engagement and can help with analysis.
Generally, your email marketing program is there to arrange the correspondence efficiently. Most of the time, the call to action is at the bottom, but you might use a soft CTA at the beginning of the email communications.
8. Avoid Spam in the Subject Line
People get tons of emails each hour, and you want yours to stand out. Therefore, you must grab attention with the subject line. Educational emails and irresistible offers go to waste if the email recipients don't open them!
However, the subject lines don't have to sound too good to be true or seem manipulative. If you use certain words in your subject lines (lose weight, 100 percent, or guarantee), they go directly to the person's spam folder, and that's not effective email marketing!
The goal is to use something that drives curiosity and promotes self-interest so that the email recipient wants to open it. Think of it like this: if you wouldn't open it in your own inbox, they won't either!
9. Make It Easy to Unsubscribe
People must be given a way to opt out of the email, and it's not just a good practice—the CAN-SPAM Act says that you have to stop sending emails to those who don't want them.
If it's not easy to unsubscribe, people mark the emails as spam. Those spam filters make it impossible for your messages to go to the recipient again. Likewise, they are reported, so if enough patients do this, no one gets the email.
Make sure you add an unsubscribe link to the footer. If someone clicks on it, they should get removed from the list immediately. You can establish triggers like this with your email software to make email marketing a breeze.
10. Track Performance
It's important to track your email marketing efforts and ensure that they are effective. There are key metrics to consider to ensure that things are running smoothly. General things include:
List Growth – How many people are added to your list each month or week?
Click-to-Open Rates – Out of the people who did open your emails, how many clicked on the links shared?
Open Rates – How many people opened the email you sent?
Unsubscribe Rate – How many people ended up unsubscribing after every email campaign?
This data gives you crucial information about who opens the emails, which ones get more engagement, and why people unsubscribe. Find the hottest leads to provide the maximum value and improve efficiency.
Typically, email software gives you a dashboard that helps you see an overview of those numbers. That means you're not dealing with formulas and spreadsheets all the time.
Which Service to Choose
The next step is to find a marketing tool that helps you implement the tips listed above to offer educational newsletters to more patients. There are countless options online, and one Google search is enough to thwart anyone.
Increase Your Patient Engagements With Medical Email Marketing!
Email marketing is something everyone needs, and medical practices are finding that out. You want the vast majority of your patients to know that you care, but that also means focusing on HIPAA compliance.
With so much noise online, you have to push through the competitors and offer something everyone wants. With strategic email marketing for your practice, you can definitely hit send with confidence.
How do you use email marketing for your healthcare practice? Share your stories in the comments section below!
For more helpful healthcare marketing tips, visit the Digitalis blog.