Close your eyes for a moment. Can you think back to the last time you saw a healthcare advertisement? 
You might have thought of a specific slogan or image. Or maybe not. 
Digital marketing experts estimate that Americans get exposed to 4,000 to 10,000 ads per day. Most likely, you're unconsciously looking at these ads, and you tend to skip them if they are not relevant to you. 
Companies put a lot of effort into creating advertising campaigns that successfully catch the attention of the viewers.
Healthcare marketing is all about building trust and personalizing your patient experience. You can share stories from patients, brand personalities, and being part of a trend. Effective healthcare ads will help your practice compete with the biggest providers in the industry.
But how can you make a healthcare ad campaign that converts more customers and makes you stand out over your competitors? Here's a pro guide in creating relevant and effective healthcare advertisements!
The Rise of Digital Healthcare Advertising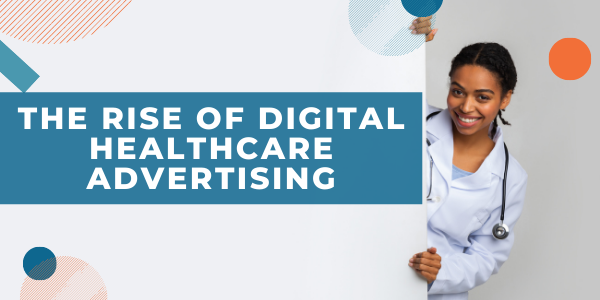 In 2021, the global advertising expenditure of healthcare organizations will likely increase by 4.3%. It has been continuously rising since 2018. 
In the United States alone, the healthcare advertising budget is projected to rise by 18%. By the end of 2021, experts predict that healthcare digital advertising will surpass TV advertising for the first time.
Boost Your Healthcare Marketing with these Advertising Tactics
Color Psychology
Colors can affect our emotions, perception, and mood. They can convey meaning and communicate a message, making them a vital technique in designing healthcare ads.
For instance, blue is associated with trust, credibility, knowledge, power, and professionalism. It also represents calm, focus, and reliability. 
These characteristics are expected in every healthcare organization, making blue a popular color for designing healthcare logos and ads. Take a look at how John Hopkins Medicine and Olivia Hospital & Clinic used the blue color in their ad materials:
Focal Point
A focal point is often the element that relays the main message. You can use design principles like color, size, direction, and so on to highlight your desired focal point.
This award-winning healthcare advertisement for AstraZeneca's Brilique brand uses the boxing glove-shaped image of a heart to symbolize the fight for life of those suffering from acute coronary syndrome. 
Typographic Composition
Text in design can stand as an image. Numbers and words can communicate a message and enhance the visibility of your ad. 
Typographic composition refers to the intentional use of text to tell a story. It uses a variety of principles, such as direction, size, shape or space.
The Message 
Delivering the right message is always a must for every content creation task, including advertising. 
Attention to detail is significant. Identify the necessary information to link into your campaigns.
Here's an example of a banner ad with a compelling message:
This video advertisement by Vanquish Digital Headache delivers a clear and compelling message about digital headache in just a minute:
Invoke an Emotional Response
Good content must effectively capture the audience's emotions.
If you're designing ads or banners for marketing, you can attract attention by stimulating emotional reactions. Emotional trigger is one of the most powerful advertising techniques and one of most in-demand within the healthcare industry.
Ads can target many different emotions such as sadness, sympathy, hope, or nostalgia. Messages that promote social responsibility are some of the most effective ways to trigger these reactions.
This campaign of Sutter Health used the message "It's a thousand things big and small" to tackle the emotional aspect of healthcare. Evocative scenes from Sacramento and the Bay Area are shown at the end of the video to tie in with the local connection.
Humor
Using humor in an ad can be a great way to bring happiness to your audience and make your brand more memorable. People love a good laugh, especially young people surrounded by meme culture. They will often share funny images with other people via various social media channels when they see them.
Cigna's "The TV Doctors of America" advertising campaign featured Alan Alda ("M*A*S*H") and Patrick Dempsey ("Grey's Anatomy"), as well as Lisa Edelstein ("House"), Donald Faison ("Scrubs"), and Noah Wyle ("ER") in fictional hospital settings. 
The ad shows Alda, a surgeon, who humorously admits "I don't know what I'm doing." It leaves a powerful message: visit a real doctor, get an annual checkup, take control of your health.
Quantitative testing revealed that 40% of the ad's viewers intended to schedule a checkup and considered Cigna as a potential health insurance provider after seeing the campaign.
Use a Quote
Using quotes in your ads can encourage the audience to share them on social media. It's critical to find the right quotes that are relatable and worth sharing with your audience.
Dana-Farber Brigham & Women's Cancer Center built a cancer-awareness campaign around the powerful, quotable slogan "Right now you may have cancer. But what your cancer doesn't know is — You Have Us." The quote became an empowering tool for those dealing with cancer.
Call to Action
Engaging with the right call to action can increase engagement. It will allow you to have a conversation with your audience or encourage people to click your link.
Words such as "discover," "learn more," and "apply" can be great choices. You can also be more direct by using phrases like "Set up an appointment," or "Book a consultation".
Describe Your Offer
A simple description of your offer is a great way to increase conversions in ads. Use as few words as possible, but make sure you don't miss the most important parts of your message.
Advertise Something Relevant To Your Audience
Many factors can convince potential patients to choose your clinic or medical facility. 
For many patients, waiting time is another factor. Nobody likes waiting too long, especially during a medical emergency. 
Advertising short waiting times highly gives your practice an advantage to reach more potential patients.
Here's an example ad from Riverview Regional Medical Center:
Symbolism
Symbols are a visual representation of an object, function, process, or message.
Organizations use similes and metaphors to show how one thing can be represented by another. Symbolism is similar to the association technique, where the consumer links the visuals to another thing they understand.
Here's a great example of a powerful visual representation of the problem that was solved by the product. The message equates headache with being hit by an enormous wrecking ball.
[Relevant: How to Choose the Right Type of Ads to Reach New Patients]
Get More Customers With the Right Medical Ads
Healthcare marketers and advertisers have to create appealing designs for their target audience while also maintaining brand credibility. Think outside the box and create something that makes your brand stand out.
Advertising in the healthcare industry is tricky, which is why you need help from a healthcare marketing expert who knows how to capture your audience's attention and emotions.
Need to boost your marketing efforts? We've got you covered! Schedule a free call with Digitalis Medical today and get customized expert suggestions to grow your brand.
Do you have any questions or interesting stories about creating healthcare advertisements? We'd love to hear them! Share them in the comments section below!