Are you embracing the full potential of your healthcare brand?
We are far from the days when families would rely on house calls by their primary care physician to take care of all their healthcare needs. 
Today, healthcare has evolved from a single PCP to a myriad of specialists in many different care settings. 
Many advancements have also been made in the health system including:
Technological advancements paving the way for more definitive research
Research that leads to the discovery of different diseases
Diseases that lead to the development of more treatments, procedures, and vaccines 
As the healthcare industry continues to progress, how have hospitals and private practices kept up with the changing times? How do they stay ahead of other companies?
This is where the power of your healthcare brand comes into play. 
Today in 2020, it has become more important than ever for healthcare companies to build a leading yet unique brand identity that directly speaks to their patient audience.
Take a look at some of the most creative, impactful, and effective healthcare brands in the industry.
We'll showcase their different methods that you can apply to your company.
What Is Brand Identity and Why Do Healthcare Companies Need It?
At first, when you think of brand identity, a logo with eye-catching font, a clever slogan, and a complementary color scheme may come to mind.
Healthcare brands go much further than simple visual appeal. A healthcare brand identity must start with the essence of what your health company is all about.
It needs to capture the voice, the values, and the emotional attachment of your practice that stands behind the service or product(s) you offer.
Ultimately, healthcare brands should translate the opinion, view, and impression you want to make on your patients and employees. 
The Power of Your Value System
The values of your medical company have a much bigger purpose than a laminated poster in the breakroom.
Your value system needs to be the foundation of every:
Employee-patient interaction
Resource provided
Promise made
Service delivered
This is essentially your brand identity. 
The design, fonts, and colors portray your value system in a visual sense. 
It's the experience of your current and prospective patients which leaves the lasting impression you want to make.
How to Build Your Healthcare Brand
Want to leverage your services to the right audience? 
Here are a few steps to help you get started:
1. Identify what you want your healthcare practice to be known for
This is a foundational step with any marketing development process. 
Some examples would be:
Leading, most-trusted doctors in a specific specialty
Providing the most cutting-edge technology
The highest success rate in procedures
An established presence and relationship within the community
Award-winning, highly-acclaimed hospital or practice
2. List the unique identifiers of your healthcare company
There is nothing more important than earning the trust of your patients. 
What is it that your healthcare practice does differently than other practices in the industry to gain the trust of your patients?
Some examples to think on:
Transparency 
Ease of communication
Going above and beyond
Following through
Listening to patients' needs and feedback to improve services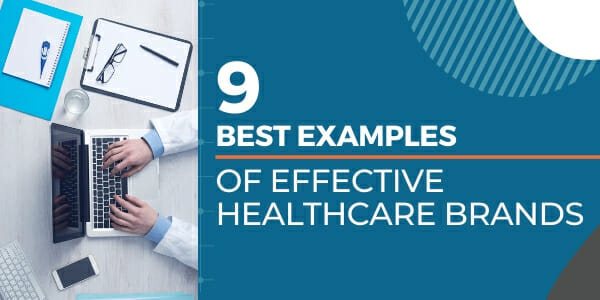 9 Best Examples of Effective Healthcare Brands
1. Let Your Patients Say It All: National Jewish Health
Use your patients' testimonials to expand the power of your hospital's voice. 
Patients and their families are often recipients of some pretty devastating news that can paint a bleak picture for their future. 
National Jewish Health, a leading respiratory hospital in Denver, CO, wanted to paint a brighter picture by highlighting the success stories of their patients. 
These stories were shared to build their image as a facility patients could trust.
This hospital's branding method personalized the "never say never" adage. It exemplifies their diligence and commitment to their patients, their services, and care. 
2. The Infographic Approach: Banner Health 
Banner Health used the yearly flu season to create an easy-to-read informative graphic to educate and protect their patients' health. 
Infographics are effective tools to get a clear, concise message across to a target audience. 
What's more, they are very easy to share and are 3 times more likely to get shared on social media sites.
These visual informational pieces create a more powerful impact than a long-winded article that usually gets skimmed over with important points missed.
Graphics that include quick points are more likely to make a lasting impression on readers. 
Banner Health answered a need by providing valuable information in a digestible, shareable format to increase their brand awareness.
3. Creative Social Interaction: Anne Arundel's Medical Center
November is Men's Health Awareness Month. Anne Arundel's Medical Center wanted to be at the forefront with their patients. 
To harp on the importance of taking care of men's health needs, they created a contest using their social media platform.
Their strategy: capitalize on the selfie craze by having people post their best mustache selfie to win a prize. 
Their social media contest interacted with a wide variety of potential patients while driving traffic to their website and their valuable resources.
This interaction helped to build trust with the medical center as they brought the community together for a good cause.
4. Meeting a Need: Johnson & Johnson
Johnson & Johnson is a popular household name with medical products and other goods they produce. 
A report projecting the high demand for nurses in the coming years motivated Johnson & Johnson to create an outreach project. They made a campaign to help raise up the next generation of nurses.
This campaign put together many educational resources and training through video, podcasts, and articles.
Choosing to utilize "day-in-the-Life" type videos have shown to be especially compelling to aspiring nurses.  
This campaign not only supported the nurses, but also the patients that would need to rely on them for their products. 
5.  Creating a Community: Floating Hospital for Children at Tufts Medical Center
The Floating Hospital for Children at Tufts Medical Center created a community exclusively for the moms of their patients.
Mom groups are very active on social media platforms, and rightly so.
The Floating Hospital for Children recognized the dire need for moms to come together to support one another as their children were receiving treatment and getting care. 
The medical center showed compassion and understanding because they know how valuable this support is for these moms. 
6. Share the Wealth of Knowledge: Mayo Clinic 
Let's take a page or two out of Mayo Clinic's book.
Mayo Clinic, named the best hospital in the United States by U.S. News and World Report, has applied very successful approaches to building their healthcare brand.
One effective strategy they're known for is producing quality medical content.
Mayo Clinic is often ranked high on search engine results pages due to the authority of their content.
A great portion of their content is written by their medical staff and their patients from around the world. 
Their purpose: to provide a personalized view of diagnoses, treatments, recovery processes, etc. 
Another approach they took to make a lasting impression with their audience was by inviting them to tweet questions and comments during an open-line conference call with the American Heart Association.
The interaction portrayed a "my voice matters" message to the patients during the call. It also created an impactful digital archive for the hospital as well.
7. Investing in the Youth: Columbia Health
Columbia Health's "Go Ask Alice!" Q&A online forum and blogs have a two-fold approach to building its healthcare brand.
First, the Q&A forum and blog library are targeted to a younger audience. 
The platform provides a safe, judgement-free space for the youth to ask questions and to get involved in a conversation centered around health.
Second, it provides an opportunity for the younger generation to explore and expand within the healthcare industry.
Through the experience of approaching, discussing, understanding, and learning about their health, Columbia hopes that the exposure to this community will open the door for potential students.
8. Speak Their Language: Hartford Healthcare
There is no better way to connect with your audience than by addressing what's most important to them. 
For patients, convenience and trust are often what they seek when choosing a healthcare provider.  
Hartford Healthcare is an urgent care center. They understand that no one wants to be in the position of needing urgent care services.
Using a 30-second video, Hartford Healthcare portrayed true-life events to show its audience how easy it is to use their website and app to book appointments with quality, caring doctors.
Hartford Healthcare used what matters most to its patient audience to successfully build its healthcare brand.
9. Promote Health: Zocdoc 
Doctors aren't only in the business of treating unwell individuals. Preventive care is also important. 
The thing is, you don't want your patients to only visit you when they aren't feeling well.
Zocdoc, an online medical appointment booking service, put together a campaign to help promote "Unsick Days". 
The movement promotes patients scheduling an appointment when they are well to check their health status before they become in need to see a doctor.
The video suggests patients use an "unsick day" to get preventative care rather than using a sick day when they are ill.
It is a win-win situation for patients and doctors.
Start Building Your Healthcare Brand Today
The methods for building your healthcare brand are endless. 
As you can see, these healthcare brands implemented their values into their strategic marketing message to create a lasting, impactful impression on their audience.
The healthcare industry is an expansive arena that allows plenty of opportunities to creatively get your name out there. 
More than that, attaching emotion and feeling to your healthcare brand that will attract your desired patient audience. 
Work With a Marketing Team
The best way to effectively build your healthcare brand is to work with the marketing experts who know the healthcare industry in and out.
A marketing team knows how other healthcare brands have been successful and will use that to make your brand unique and tailored to your company's values and vision.
Share with us your experience of building your healthcare brand.
Do you have comments or questions you would like to share? Leave us one below!