The modern healthcare industry has become more complex due to a variety of factors, including the imminent COVID-19 crises and the role of the internet in the dissemination of healthcare-related information among millions.
A strong healthcare marketing strategy is the key to educating, retaining, engaging, and motivating potential, existing, and new patients in the digital age. We have compiled a list of the most relevant healthcare marketing statistics that you need to consider in your marketing efforts in 2023. Keep reading below!
Table of contents
Healthcare Social Media Marketing Statistics
Paid advertising statistics in healthcare
Email marketing statistics for healthcare marketers
Latest trends about doctor reviews
Healthcare practice growth statistics
Healthcare Marketing Statistics to Highlight on Your 2023 Strategy
The Healthcare SEO Trends for 2023
1. Google is a popular search engine for patients looking for answers to health-related questions.
About 77% of people use search engines to start their patient journey. Regardless of the overall route taken by the user in that journey, search engines are highly involved.
In fact, 7 percent of all daily Google searches are health-related, with 70,000 healthcare searches performed every minute. Without a doubt, it is one of the largest, most influential, and most involved channels in the modern healthcare industry.
The search giant revealed that 15% of all annual searches were never searched before. This is 15% of the approximately 1 trillion annual searches. It has remained constant since 2013.
The trend has led Google to focus more on local SEO, a piece of good news for practices that invest in medical SEO to improve their business.
[Read: 5 Proven Medical SEO Solutions that Bring More Traffic and Conversions]
2. Patients choose their healthcare providers based on what they see online.
A staggering 82.8% of patients use search engines (Google, Bing, etc.) to find a healthcare provider. When searching for a doctor, 56% tend to consult three different online sources.
A Milestone report revealed that when booking a doctor's appointment, 83% of patients book a doctor's visit through hospital websites, 54% via health insurance companies sites, 50% from information sites about health, and 26% from online reviews sites.
3. Local SEO has become more crucial for healthcare digital marketing.
A study by Yext, a local SEO tool, revealed that 31% of healthcare providers do not have a local listing. Additionally, 48% of healthcare websites have basic mistakes with their addresses.
This is a major disadvantage for them, as almost half (49.3%) of the patients wouldn't book an appointment with a provider whose online listings were incomplete, while 71% will search for a new provider if the website is lacking information.
[Read: Medical SEO Guide: How to Top Search Engines (Successfully)]
Social media marketing statistics for healthcare marketers
1. Majority of internet users have social media accounts.
With the advanced digital age, it's not surprising that more than 4.48 billion social media users are active online. In 2020, 93% of US consumers searched online to find a local business. 
2. Most patients use social media to search for health-related information.
Nearly 90% of older users accessed social media to share and find health information in 2015. Those aged 18-24 are twice as likely as those 45-54 years old users to use social media for discussing health issues, according to Harger Howe Advertising.
Fast forward to the onset of the pandemic in 2020, more than 95% of consumers stated that social media is one of the most effective ways to reach patients. 
As of 2021, 79% of users look to social media to answer specific personal health-related questions. Many of these conversations are held in private groups, or with other patients.
[Related: The Pro's Guide to Managing Social Media in Healthcare]
Paid advertising statistics in healthcare marketing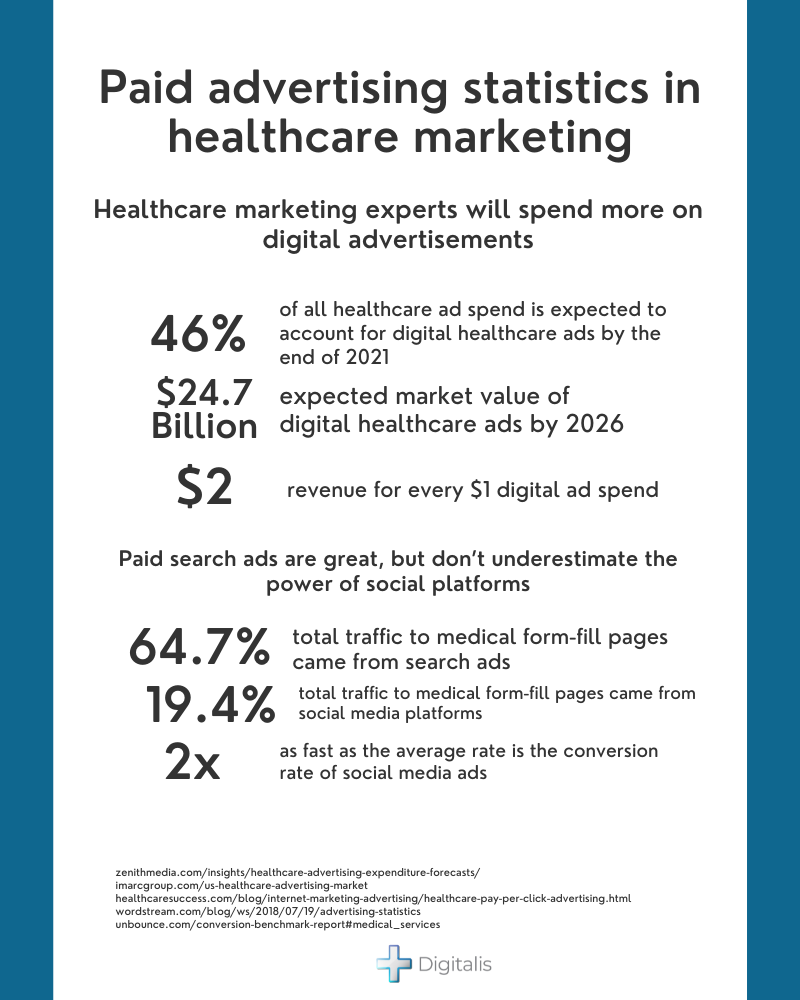 1. Healthcare marketing experts will spend more on digital advertisements.
By the end of 2021, healthcare digital advertising is expected to surpass TV advertising for the first time. The expected digital healthcare advertising spend will account for 46%, according to a report by Zenith Media.
Looking forward, IMARC Group expects the market to reach a value of $24.7 Billion by 2026, and most of that will likely go into digital platforms like Google and Facebook ads. 
Google Search is the leader in health-related searches with 89 percent, only 11% use other methods such as word of mouth or website direct. This makes Google Ads an excellent way for medical practices to have more inbound phone calls and increased phone conversion rates. 
On average, businesses earn $2 in revenue per $1 digital ad spend. They are likely to increase their expenses next year to generate more revenue.
2. Paid search ads are great, but don't underestimate the power of social platforms.
Now is the right time to try out social media ads if you are only advertising on Google. Keep an eye on the results and compare their performance to paid search.
In the latest Conversion Benchmark Report of Unbounce, search ads account for two-thirds (or 64.7%) of all traffic to pages that contain medical online form-fill pages, while social media accounts for just one-fifth (19.4%). However, social visitors convert at twice as fast as the average rate. 
Social media advertising covers multiple platforms, including Facebook, Instagram, LinkedIn, Twitter, YouTube, TikTok, Snapchat, and more. 
You won't see the best results for healthcare advertising if you create a single social media strategy.  Instead, you need to adjust your ad strategy for every social media channel. This involves optimizing your ad copy, design, and targeting to the audience of each platform, as well as the specifics for each platform.
For example, if you're advertising on both Facebook and LinkedIn, your approach would be different on LinkedIn, however, you would create an ad targeted to a slightly older audience with informative content or job openings.
[Read: The Pro's Guide to Creating Healthcare Ads that Convert]
3. Invest in optimizing your website as much as you invest in paid advertising.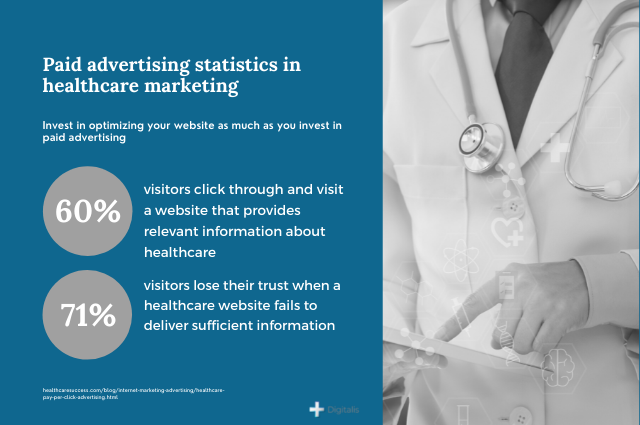 About 60 percent of visitors click through and visit a website that provides relevant healthcare information. It is important to maintain an up-to-date and authoritative website.
Informative and benefit-driven landing pages are powerful. Always give the visitor a compelling call to action.
Nearly three-quarter (71%) of visitors lose their trust when a healthcare website fails to deliver sufficient information.
[Read: Dental SEO: Getting it Right (in 2021)]
Email marketing statistics for healthcare marketers
1. Despite being traditional, email is still a viable healthcare marketing channel.
With 4.1 billion active email users worldwide as of 2021, email marketing continues to be a great way to make a profit with an average ROI of up to $36 for every $1 invested. 
Around 60% of people prefer to receive promotional messages via email, while 20% prefer to be contacted through social media channels. The average email open rate for the healthcare industry is 21.48% and the average click-through rate for healthcare email marketing is 2.69.
Good news for healthcare marketers: these statistics slightly exceed the 21.33% average email marketing open rates and the 2.62% average click-through rates.
2. Your healthcare content marketing strategy matters in email marketing.
Emails with personalized subject lines result in 50% higher open rates, a Yes Lifecycle Marketing report revealed.
Similar to other forms of content, your healthcare content marketing strategy matters in email marketing. Your email content must be concise, clear, and most importantly, helpful, whether you're sending a welcome message or a re-engagement email or offering a discount or coupon.
It is best to be straightforward when it comes to subject lines. So tell, don't sell what's inside. 
3. Don't give up on users who reject your emails. Create an expertly crafted follow-up mail instead.
Users often reject emails that come out of the blue. They are more inclined to accept messages that trigger specific actions. This could be a welcome message, a re-engagement email, a follow-up to a transaction or query, or a piece of subscription information with a call to action. 
Follow-up emails that are professionally written increase conversions by 74%. Customers' past experiences should be included in the messages. You can use phrases such as "We noticed you purchased this item last time" or "How was your purchase experience with [item]?"
Three abandoned cart emails result in 69% more orders than a single email.
Latest trends about online reviews
1. Online reviews highly impact the patient acquisition of healthcare service providers.
Studies show that 74% of patients consider online reviews extremely or very important. Patients aged 30-44 are the most active age group in searching for providers (85.8%), checking reviews (65%), and writing a review (40.3%) When choosing a healthcare service provider, 65% of patients below this age say that online reviews can help them form an opinion about a provider.
Software Advice reports that 90% of patients who seek out healthcare services use online reviews to assess their providers. Potential patients can start to gauge the quality of a provider by reading reviews. Majority (71%) of them use reviews online to find a new doctor.
Patients say online doctor reviews are the most important factor in deciding whether to make healthcare appointments. The Customer Experience Trends in Healthcare 2020 by Press Ganey revealed that 88% will read reviews about a provider, even after they've been referred.
[Read: How Online Reviews Affect SEO for Doctors]
2. Pay more attention to your online reputation
When choosing a healthcare provider, 69.9% consider a positive online reputation to be very or extremely important. Positive reviews could help healthcare companies attract out-of-network patients, as nearly half (43%) of respondents would go out of their insurance network for a provider with positive reviews.
A research by Bright Ideas found that negative reviews can significantly impact consumer behavior and make 92% less likely to get a business' service. Additionally, 67% of consumers say they wouldn't use a business if reviews said it didn't have proper Covid-19 health and safety measures.
Read: 7 Reasons Why Doctor Reviews Matter: The Internet and a Doctor's Reputation]
3. Patients highly appreciate providers who respond to negative feedback.
Research has shown that 51.8% of healthcare patients who had submitted negative online reviews about a medical practice were not contacted to resolve their concerns.
Healthcare professionals must address this trend if they wish to improve their patient journey and reputation management, and eventually increase their patient retention rate.  If a practice addresses negative feedback, the rate of patient satisfaction roughly doubles, increasing 99%.
4. Most patients leave positive reviews.
There is an increase in the number of patients who are willing to share their experiences online. According to a 2021 report by PatientPop, 44.6 percent of patients have left a review about a healthcare provider online, up from 36% in 2020.
Of these patients, 37 percent have posted at least one negative review. These are the top three reasons patients leave negative reviews:
Quality of patient care
The physician's or dentist's demeanor
Issues with the front desk staff.
The good news here is that most patients leave positive reviews for their health care providers (72%). The majority (60%) of patients say ease of appointment booking is key to a 5-star review.
Patient experience statistics
1. Healthcare marketing experts need to give a personalized experience to their customers.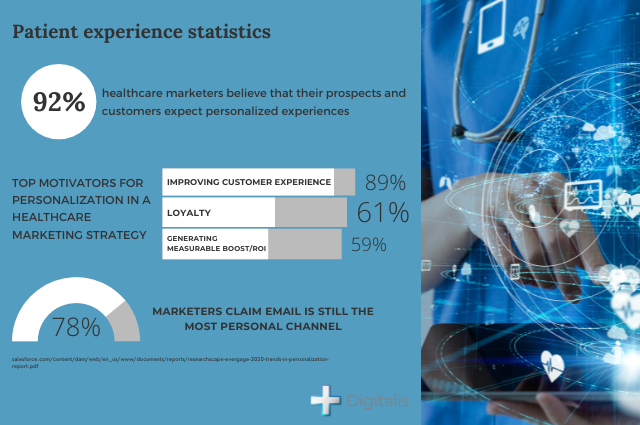 The 2020 Trends in Personalization report shows that 92 percent of healthcare marketers believe that their prospects and customers expect personalized experiences.
Marketers cite improving customer experience (89%), loyalty (61%), and generating measurable boost/ROI (59%) as the top motivators for personalization in their healthcare marketing strategy. Email is still the most personal channel (78%).
2. Patients trust the Internet over their doctors.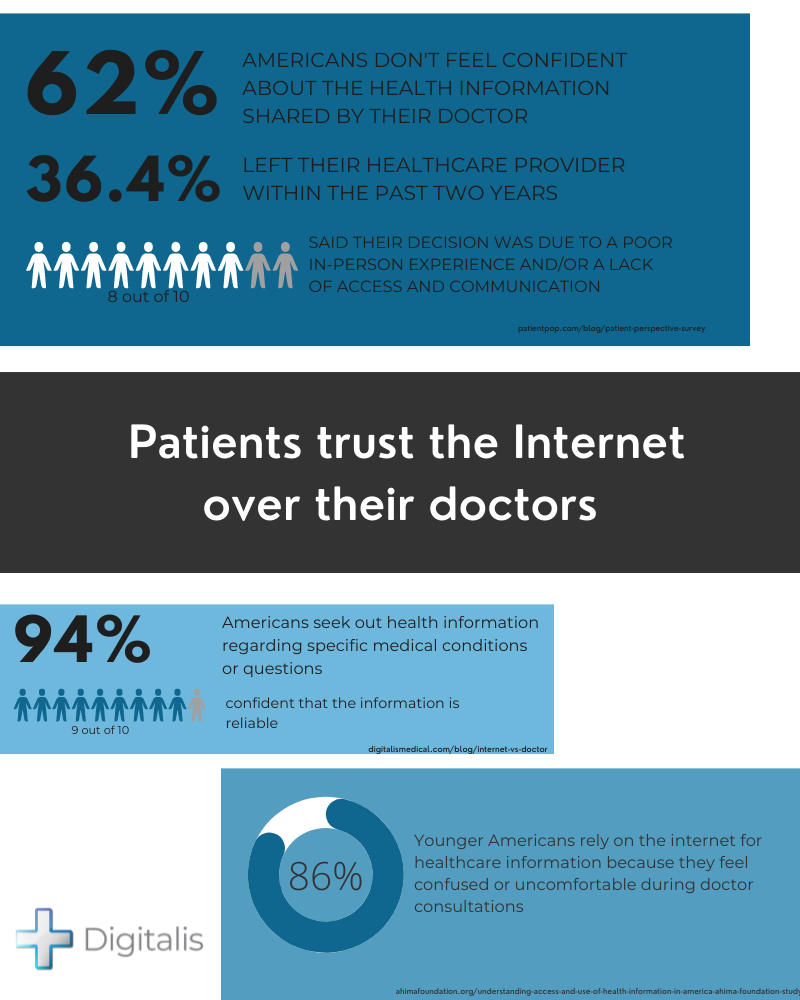 A recent healthcare study revealed that nearly all (94%) Americans seek out health information regarding specific medical conditions or questions using the Internet. Among those who use the Internet for a health-related search, nearly 9 in 10 (86%) are confident that the information is reliable. 
Nearly 2 in 3 (62%) Americans don't feel confident in their understanding of the health information shared by their doctor.
Over one-third (36.4%) of patients have left their healthcare provider within the past two years. Eight out of 10 said their decision was due to a poor in-person experience and/or a lack of access and communication. 
3. The younger generation does not feel positive about their doctors.
Younger Americans are more likely than their older counterparts to feel negative after visiting the doctor. During consultations, patients feel confused, unanswered, unsure of their questions, or uncomfortable discussing certain topics.
Failure to answer or clarify these concerns led to 86% of these generations relying on the internet for information about their health.
[Read: Why Patients Don't Trust Healthcare Providers in the Digital Age]
4. Patients highly prefer a digitalized experience, even after the pandemic.
In a 2021 survey, 51% of patients prefer a digital connection for five key interactions: scheduling an appointment, filling out forms, asking providers questions, paying bills, and accessing their personal health information records. The majority of modern patients want to book an appointment online (either online or mobile app).
Even after the pandemic, the telehealth industry will continue to grow. Between 2020 and 2025, the number of remote patient monitoring users in the US is expected to increase more than double.
5. Continuous website optimization is needed to please potential patients.
Healthcare digital marketing professionals need to be aware of how they optimize their websites. The majority (71%) of patients will search for another provider if there is not enough information on the website.
According to the latest Google Algorithm update, the optimal page loading speed should be 2 seconds. For healthcare websites, 5.4 seconds is the average speed. The faster your website loads, the better. 
In the United States, 94% of people with smartphones search for local information via mobile. Users will leave if your website isn't optimized for mobile.
Internet users prefer service providers that deliver a high-performance, user-friendly website experience. A staggering 70% percent of internet users believe page speed is a factor in their willingness to purchase. The majority of website visitors (57%) will leave a page that takes more than three minutes to load. Even a one-second decrease in page speed can lower conversion rates by 7%.
Healthcare practice growth statistics
1. Digital healthcare continues to grow.
According to Livity, the global digital health market was valued at $96.5 million in 2020. It is projected to grow at a compound annual rate (CAGR) of 15.1% between 2021 and 2028.
A new analysis shows telehealth use has increased 38X from the pre-COVID-19 baseline. Insider Intelligence's Digital Health Ecosystem Report reveals that virtual care will continue to be in high demand since 83% of US adults say they want to use telehealth even after the pandemic.
Between 2019 and 2020, medical app downloads increased by 50% due to increased demand for COVID tracking and healthcare apps. The total number of downloads for mobile healthcare apps has reached 3.2 billion.
Industry analyst IDC predicts that by 2023 nearly two-thirds (or more) of all patients will be able to access healthcare through a digital front end by 2023. The market for virtual and augmented healthcare in the global marketplace is expected to reach $5.1 billion by 2025.
2. Outsourcing healthcare marketing is needed to help doctors provide better patient care.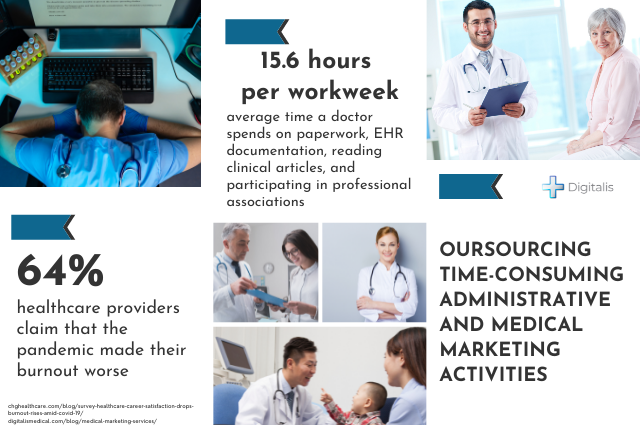 Healthcare providers report that many physicians were also affected by COVID-19, with 64% claiming that the pandemic made their burnout worse. 
Medscape's 2021 Physician Compensation Report shows that the average doctor spends about 15.6 hours per workweek on paperwork, EHR documentation, reading clinical articles, and participating in professional associations. 
Clinics and healthcare companies should consider solutions that allow doctors to concentrate on their practice, provide better patient care, and avoid misconduct. An alternative is to outsource time-consuming administrative and medical marketing activities.
Data-Driven Digital Marketing Strategy for Healthcare Providers
The healthcare industry is rapidly changing, and the numbers are proving it. These digital marketing statistics will help you create a healthcare marketing strategy that fulfills the needs of your patients better.
How would these trends affect your marketing strategy for 2023? Let us know in the comments section below! We'd love to hear from you!
Sharing is caring! Share this with your team and colleagues if you find this article interesting and helpful to them!