Running a medical practice goes beyond taking care of your patient's health.
As a business in healthcare, it is critical that you are reaping a profit while you provide the care your patients need.
To achieve good cash flow, your medical practice needs to find ways to trim expenses and costs when necessary.
There are many opportunities to reduce spending in your practice. The optimization of your business system is an area that is often overlooked by many healthcare businesses.
Not only does it result in cutting costs, but it ultimately leads to more efficient handling of your staff's time and effort.
David Sanchez, CEO and Founder of Digitalis Medical, has been in the healthcare industry for many years beginning as a Registered Nurse in the Emergency Department in Phoenix Arizona.
With his expertise and experience, he shares his top 4 tips to reduce costs in your medical billing and gain more profit for your practice.
1. Outsource What Makes Sense, Bring In House to Streamline When Necessary
"In our new economy, outsourcing is power. You'll never have to worry about laying people off."

David Sanchez, RN
With the countless resources available nowadays, outsourcing has become an essential cost-cutting technique for any business.
Companies and agencies are able to give you a vast variety of people and services that specifically fit the needs of your healthcare business.
Before you sift through your options, it's important to set the standards and criteria for the people or the service you want to outsource.
You have to hire people who are knowledgeable enough to meet the requirements of your individual practice.
In order to do this, make sure to sit down with a spreadsheet or piece of paper.
First, identify and calculate the financial costs and the manpower to fulfill your billing needs.
This will help to determine if outsourcing billing or hiring an in-house biller will be the best fit.
A general recommendation that applies to most practices: outsource at the beginning, then go in-house later, when the costs are lower to hire an employee or 1099 contractor.
Just remember, if you hire an in-house biller, make sure he or she has the following in order to provide stellar service:
Experience
Training
Software knowledge
Outside resources
If you save 20% on labor by hiring an in-house biller only to collect 30% less, you're on the losing end of the deal.
2. Partner with Experts to Handle the Difficult Things
For a successful healthcare practice, time equals money.
Any inefficient processes or time-consuming areas in the billing process is a waste of your hours, which also equates to wasting money.
Fortunately, there are a growing number of experts that are trained specifically to help you with the difficult things.
Here are some resources to save days of headaches:
Software That Makes Life Easier
Avea's software platform makes behavioral health billing extremely fast and simple, regardless of the EMR you use.
AveaOffice is one of the first revenue management software that has been developed for the behavioral health industry.
The makers of this software have had the same experience of worrying about lost revenues, lack of transparency, and low accountability in billing systems.
AveaOffice provides the following services:
Access to real-time analytics and reporting
Team workflow management for optimized efficiency
Maximized revenue performance and eliminating issues before they become problems
With their software, they aim to help treatment providers through their efficient revenue cycle management software.
Collections for Unpaid Claims
Are you aware of the profit losses in your practice due to unpaid medical bills?
Many healthcare providers erroneously think that the only way to follow up on claims is by billing them their unpaid balances.
However, doing so may result in drastic consequences in the long run.
Here's my tip: Use a great collections company instead of trying to chase patients down. That's a huge waste of your time.
Medical debt collecting agencies are cost-efficient as they generally only charge a percentage of what they collect from patients.
Just make sure they're decent people who are firm but not harassing your patients.
There are many companies providing services to pursue payments from patients, even those that do not have health insurance.
Here are a few examples of what they can do for you:
First-party collectors speak to patients on behalf of a healthcare business.
They often have a better chance of collecting payments quickly, as long as you team up with a company that is respectable with your patients.
Third-party collectors go after medical debts that are past their due dates. Due to the circumstances, these may be harder to collect.
A medical debt collection agency that specializes in hard-to-chase debts can handle this effectively.
Medical Billing Solutions
Many debt collecting agencies also offer billing services to fix billing errors and establish accuracy in a practice's billing process.
With increased efficiency in billing, there will be a higher possibility of recovering more medical debts.
Hiring a medical debt collection company provides you with more focus on patient care, rather than spending time collecting payments and unpaid claims.
This approach isn't only going to save you time and energy, it will also prevent negative financial consequences in your healthcare business.
Legal and Negotiations Experts
CollectRX is a team of billers and lawyers that specializes in out-of-network negotiation and collections.
They have very impressive reimbursement rates, and I've always been impressed by their service.
I would definitely recommend CollextRX over any fixed percentage agreement with a payer.
The difference in reimbursement rates I have experienced with their service is at least 30% higher, which would be game-changing for many practices.
They also take care of clawbacks, also known as repayment requests, for claims that were negotiated by their team.
Their legal team has a greater than 80% success rate of contesting unfair treatment by insurance companies.
Here's a screenshot of a section of their homepage.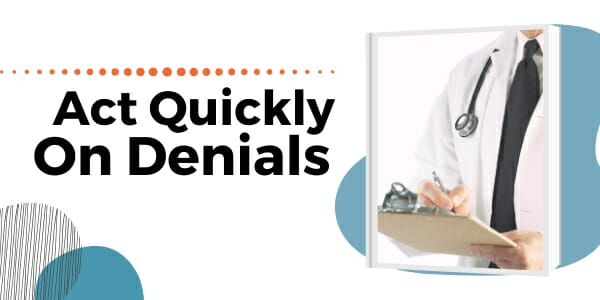 3. Act Quickly On Denials to Maximize Reimbursement
Reimbursements from insurance companies are often the core of most medical practices.
That's why it's essential to keep an eye on these claims and act quickly in the event of a denial.
According to experts, if denials aren't followed up on immediately, your practice is bound to encounter the same issues in the future.
In return, you may miss your chance to increase revenue through legitimate appeals.
In some cases, practices are blowing off substantial dollars because processing denials are quite the hassle.
Researchers say every time you contest a denial, the likelihood of getting paid for your services is reduced by another 50%.
So if you resubmit a claim twice, your chances of reimbursement are 25%. 3 times? 12.5%. Those aren't very good chances.
If you do end up not getting a resolution, consider involving the patients. Patients may be willing to call their plan to see what they can do to get it paid.
If your appeal is denied, you or the patient can also request an external review through your state insurance department.
4. Get the Lowest Rate Possible
Whether you're a small clinic or a large-scale medical facility, providing the best care for your patients is at the top of your agenda.
However, you also want to provide your patients with top-notch customer service.
It's common for patients to become frustrated over incorrect, delayed, or complicated medical billing procedures.
Hiring a third-party billing company can save your patients and their families from these unnecessary hassles.
Outsourcing your medical billing can ease the burden of managing complex claims paperwork in-house.
Here's my tip: If you use a third-party billing company, get the lowest rate you possibly can. I've seen billing companies charge anywhere from 4-11% of the total reimbursement.
Reduce Your Medical Billing Expenses With These 4 Essential Tips!
To be a successful medical provider today, you need to ensure that you are spending your healthcare costs where they are most beneficial.
While some may think that outsourcing to medical billing companies is a negative way to cut corners, it can actually be a financially sensible move.
By outsourcing and connecting with the right experts and companies, you can save money and redirect your own resources more efficiently.
Overall, the benefits you could receive by working with a medical billing company include paying less in company overhead and receiving higher rates of collection.
Have you had experience with an external medical billing company? Let us know your thoughts and opinions in the comments below!