Having a good online reputation is just as important as having an active and optimized website. SEO Guide's analysis of SEO ranking factors found online reviews are the most important factor in establishing and improving SEO-driven outcomes.
Modern patients prefer reading online reviews to increase their trust and to make appointments with healthcare providers. They trust the opinions of others more than they trust you. 
Likewise, search engines like Google wouldn't trust you enough if you don't have good patient reviews online. Search engines want to make it easy for searchers to find the best service. Online reviews of doctors can be thought of as crowd-sourced recommendations. Hence, Google listings with more stars are likely to rank higher.
But how exactly do online reviews affect SEO for doctors? Can negative reviews affect your SEO efforts too? Read on to find out.
Quick Review on How SEO for Doctors Works
Search engine optimization begins with Google's algorithm, a mathematical formula that ranks every relevant website and search query. It determines where they will appear in Google search results, and which relevant web pages will be on the first page. 
The algorithm considers over 200 different things, but here are the top three factors:
Quality. Google prefers ranking websites with interesting, original, compelling, and shareable content rather than those that are stuffed with keywords. Additionally, the healthcare website must be user-friendly and easy to understand.
Authority. Websites with high authority are those with many engaged audiences sharing their link to other sites, communities, and on social media.
Trust. Websites with more positive reviews tend to rank higher on search engines to help users find trusted products or service providers. The Moz Search Ranking Factors Survey shows online reviews account for 13 percent of search engine decision-making. 
Understanding Local SEO
Local SEO (also known as off-site SEO) is a subset of search engine optimization that allows you to rank high for localized searches. Search engines employ "exact match" thinking. They want to find the search results closest to the user's query and most relevant.
When patients search for a doctor, they are most likely in need of urgent medical treatment and aren't looking to travel far for it. Google and other search engines understand patients are more likely to seek out a local healthcare provider, so they change their search results pages to accommodate these types of health-related searches.
Search engines now use the searcher's location and a provider's proximity to the searcher to determine who ranks high (or appears on the map at any rate). Providers and practices need to be aware of a variety of factors beyond the page:
Google My Business (GMB) ratings and reviews
GMB Business Classification – the category of your clinic, practice, or organization
The proximity of the searcher to your hospital or clinic
Hours of operation
Authority of the associated website(s).
If a lot of websites link to your medical practice website from search engines, it is likely that you have accurate practice directory listings and high volumes of online reviews. This will make your practice stand out as a place where patients would want to visit and use your services.
[Read: Medical SEO Guide: How to Top Search Engines (Successfully)]
How Online Reviews Appear on Search Engine Results Pages (SERPS)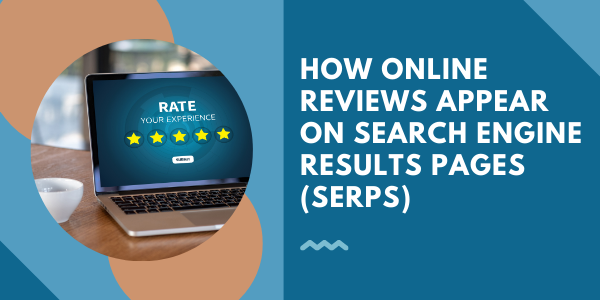 One thing is certain about search engines: they change all the time. Search engines are constantly changing how they rank websites. They also change how they display information on their search engine results pages (SERPs). 
Google and its partners are always trying to make the best possible for their users (your patients). The SERPs can now be structured to answer searchers' questions and provide information in just a few clicks, without leaving Google.
This is how a healthcare-related search result appears on Google to help you better understand how online reviews can help you acquire more patients and leads: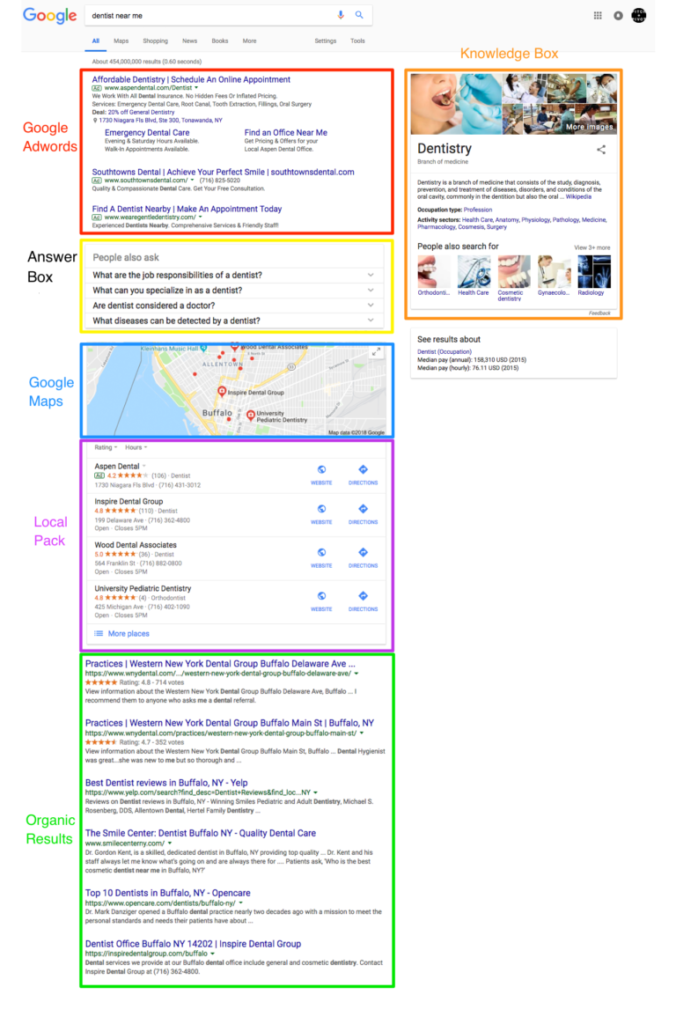 Google Adwords
Google Ads are the first thing that you will see in almost every Google SERP. This is their pay-per-click program.
Knowledge Box
The Knowledge Box provides structured information about the search query. Google pulls information from a Google My Business profile to populate the box.
Most search queries that relate to your professional name or practice niche are represented by the Knowledge Box. This may also show up for high-level searches,  such as those relating to a medical condition or injury. 
Answer Box
The Answer Box is often displayed and displays information Google has gathered from websites to create a Q&A-style result. Further questions and answers will be displayed when you interact with the Answer Box. You can optimize your medical website content for the Answer Box.
Google Maps
Google presents a Google Map that lists local businesses and provides information for most localized searches. This feature is very important as most local searches related to health are of a local nature. The listings and businesses on the map are based on information from their Google My Business profiles.
Local Pack
Localized searches that include Google Maps will also show a list of three to five local businesses (that are visible above the map). The Local Pack gives users quick access to the most commonly requested information about a healthcare provider. It includes the company name, number, average rating of Google reviews, and website link. 
Google needs information on businesses in order to give the best search results possible for its users. This is where the sentiment and content of reviews play a significant role. 
Search engines can find great information about a company by looking at the reviews that consumers have written about it online. The higher your rank, the more reviews you have. To ensure your continued top ranking in search engines, customers should leave positive reviews about your business online.
However, Google will not allow anonymous or unidentified users to leave reviews for doctors online. After this ban was implemented, Google lowered the ranking of medical practices that had received online reviews. This means that your search engine rankings and online presence will be affected by how many legitimate online reviews you have for your medical practice.
Organic Results
Finally, organic search results are displayed. Google and other search engines have consistently decreased the importance of organic search results over the years. But they are still the most important source of website traffic, even if they have lost their focus and screen share.
Your Online Reviews Can Affect Your Search Rankings And Patient Acquisition
According to BrightLocal's Local Consumer Review Survey 2020, these are the ways online reviews can affect  your search results on Google:
87% of consumers read reviews online about local businesses.
The most important review factors: 1) Star rating, 2) Legitimacy, 3) Recency, 4) Sentiment, 5) Quantity
Only 48% of consumers would consider using a business with fewer than 4 stars
73% of consumers only pay attention to reviews written in the last month
72% of US consumers have written a review for a local business–a big jump from 66% in 2019
Patients are increasingly reading online reviews to increase their trust and to make appointments with you. Positive reviews can also improve your search rankings and increase clicks from search to your business website.
Likewise, negative online reviews can harm your brand, profits, and trustworthiness as a doctor's practice. Negative reviews can have a significant impact on consumer behavior, making 92% of consumers less likely to use a business.
Online reviews for doctors will drive patients to your practice in an age where digitalization has taken over healthcare marketing. Your medical practice's profitability and sales can be improved by making patient satisfaction a key component.
[Read: 7 Reasons Why Doctor Reviews Matter: The Internet and a Doctor's Reputation]
How To Get Good Patient Reviews
Let's get this straight: nobody would want to entrust their health conditions to a doctor with bad credibility. Search engines wouldn't recommend you to their users if your patients don't trust you either.
With these steps, an excellent reputation  online will surely follow:
Improve your patient experience. A happy patient is a healthy patient and a positive reviewer.
Directly ask them for feedback. How can we serve you better? Tell us about your experience!
Respond to reviews quickly. About 20% of consumers expect to receive a response to their review within one day
Handle negative reviews professionally. Most of your unhappy customers will return to your business if you manage to resolve their issues quickly and efficiently.
Highlight the positive. Reach out to patients who gave your practice satisfactory ratings and ask them if they'd be willing to write or record a testimonial. 
Optimize your online profile. Make sure to update your business information and offer more options for communication on your profile. 
Comply with HIPAA. Sharing any private and sensitive information of your patients without their consent will cause you further damage.
It can be difficult to manually review online reviews, especially if you are already running a business. There are numerous online tools that you can use to manage and automate patient reviews. They can automatically send emails asking patients to leave feedback online about their experience after every appointment.
Many doctors also employ a healthcare marketing agency to assist them with their digital presence – including online reviews, marketing, and more. These experts know how to convert patients the right way.
Are you a doctor who would like to boost your digital presence? Book a call with Digitalis and let our experts help you with your digital marketing strategy.
We would love to hear from you! Share your views about online reviews for doctors in our comments section below.