Working in alignment with standard operating procedures is an essential aspect of any organization, especially in healthcare. 
Ensuring that the whole organization – from the management to employees – is operating according to a formalized and coordinated process increases productivity and reduces the risk of errors.
Although everyone may want to do their job the right way, everyone's version of that right thing may vary. With a patient's life on the line, medical staff leaders and members must follow the same rules and guidelines to provide quality patient care and healthcare service.
A standard operating procedure (SOP) stands for medical processes that are documented to will align all the necessary processes that every staff member must follow in certain situations. 
If you're a healthcare organization looking to put standard processes in place, read on this guide to find out more about the components of SOP in healthcare and learn our step-by-step guide to develop them.
What Is A Standard Operating Procedure (SOP) In Healthcare?
The International Conference on Harmonisation (ICH) defines a standard operating procedure (SOP) as a detailed, written set of instructions to achieve uniformity in the performance of a specific function. 
SOP Medical Meaning
An SOP tells who, what, where, when, and how to operate in a designated area when specific circumstances arise. Regardless of your medical field, following these procedures is part of your responsibilities. 
Furthermore, the standard operating procedures of one area may or may not apply to other fields. 
Laboratory technicians have their own guidelines for handling, testing, and discarding body fluids procured from patients. 
Emergency room physicians have SOPs for unconscious patients. Nurses in an operation room have their own SOPS when handing over devices to the surgeon. 
The importance of SOPs
Organizational processes are not a one size fits all thing. They are neither a be-all, end-all solution. They don't promise excellent performance nor results in one go.
Instead, all components of an SOP exist to ensure that your medical organization has a structured health system and processes in place, disciplined staff members, and a positive ethos. These standard operating procedures support the right people in the right department under the right circumstances. 
As a business tool, SOPs help your medical practice evaluate current efforts and decide how to move forward. As long as everyone in your organization understands and follows these processes, you'll be able to make the best choice. After all, the ultimate goal is to grow your business through quality and reputable patient care.
At a minimum, a well-crafted SOP can give your practice the following:
Consistency – Each staff is consistent in the way they carry out a particular task., reducing the risks of quality concerns.
Fewer mistakes – As long as each individual within your team consistently performs the written procedure in the SOP, the risks of errors remain low.
Communication – SOPs require improvements and updates from time to time. Updating these standard procedures give employees a chance to communicate their concerns and suggestions in processing changes. 
4 Important Healthcare SOPs and How To Create Them
Continue reading to learn more about how to write standard operating procedures for healthcare organizations!
1. Patient Enrollment
Patients and their attendants can see the quality of a medical organization the moment they reach the front desk for mandatory enrollment. Clear guidelines to front desk officers help keep the patient journey smooth and the practice disciplined.
Purpose
To provide maximum comfort and support to patients and their attendants during the registration process.
Scope
Requiring the front desk team to fully understand the whole patient enrollment process, including the dos and don'ts.
Providing accurate and smooth patient enrollment experience.
Increasing the staff's productivity
Giving patients adequate comfort upon entering the hospital or clinic. 
Procedures
As the first step before receiving medical treatment, the enrollment process is mandatory to keep track of records and count the exact number of incoming patients. 
The whole procedure generally includes the following:
Getting patient's basic information (name, age, sex, occupation, marital status, religion, contact details, address in case of the minor patient, and emergency case relationship of the attendant). 
Generating a unique patient identification number. 
Keeping and maintaining patient files for documentation.
Proper collection of necessary fees for visitation and treatment.
Informing the patient and attendant about the next step after enrollment.
Things to remember
Make sure the patient and the attendant sign every required document.
Inform the patient and attendant how to use the unique identification number and assure them of personal data confidentiality.
Coherently perform the whole process for every patient.
2. Purchase of Medicines
Access to good healthcare is a basic necessity for every individual. A well-functioning healthcare system consists of qualified physicians, legally approved medicines, and modern equipment. 
Essential medicines must be available to patients who need them. Any mistakes in acquiring these medicines for public health consumption may result in adverse effects. Hence, purchasing pharmaceuticals must be done according to the standard and approved processes. 
Purpose
To make the purchasing process transparent, efficient, and reliable while ensuring compliance to state and organizational rules and regulations.
Scope
Documenting and organizing medicines according to standards 
Quantifying medicines
Selecting appropriate suppliers
Proper managing and monitoring of procurement system
Training of medical staff involved in the purchase process
Procedures
The SOP for purchasing medicines helps streamline the buying process and cut excess overhead. 
 The proper purchasing process:
selection, quantification, and specification of medicines
choosing the right supplier
Acquire medicine demand data from hospital staff and experts
Inventory check for the available pharmaceuticals based on demand
Purchase medicines, prioritizing the essential ones. 
Documentation of acquired sets of medicinals – name, quantity, cost
Monitor the procured medicines from time to time to keep track of their availability
Generic or international non-proprietary drug names must be written and disclosed to prevent any confusion.
Things to remember
Make sure all are FDA-approved and purchased from a licensed supplier.
Procurement must be within budget.
There shouldn't be any hidden clause in the tender process.
3. Booking Consultation Appointment
To maintain an individual's optimal health condition or address any medical issues, booking a consultation or check-up with a healthcare provider is necessary.
Purpose
To guide patients and attendants with standard written procedures when seeking healthcare consultations and treatments. 
To prevent patients from getting confused, lost, and discouraged because of mediocre booking procedures.
Scope
Maintaining the patients' patience during the booking process
Assisting patients to understand the rules when booking an appointment
Procedures
Booking an appointment with a healthcare provider is now available on both online and offline platforms, thanks to technology. 
Below are the general SOPs patients and healthcare staff must take note of when booking a healthcare appointment. Note that these are only the general guidelines. Standard procedures vary depending on the facility.
SOP for patients booking an appointment via phone call:
Call the healthcare establishment's customer service department
Provide your unique identification number (if you have one)
If you're a new patient, you may have to register at the healthcare facility first
Give the details of the doctor whom you want to consult
SOP for patients booking an appointment via the website:
Visit the hospital or clinic's website
Go to the booking page
Log in with your registration details
Fill up necessary forms
Review all the information you provided
Pay the necessary fees
Get your appointment details
SOP for patients booking an appointment onsite:
Visit the medical facility
If you're a first time visitor, follow the mandatory enrollment SOPs first
If enrolled already, provide your identification number to the receptionist
Give the details of the doctor whom you want to consult
Pay the necessary fees
Get your appointment details
4. Surgical Procedures
An operation room is where most life-saving surgical procedures happen. Two types include the minor and the major rooms.
The minor operation room is for small procedures that don't need a particular date or appointment, such as cryotherapy and removal of pus from skin eruptions. 
The major operation room, on the other hand, is for crucial surgeries. It has life-saving equipment, a special doctor's permission, and prior booking. Laparotomy and open heart surgeries are among these major surgeries.
Scope
Since the operating room is a restricted area that only authorized individuals can enter, hospital staff members must be aware of the mandatory dos and don'ts before, during, and after a surgery appointment. 
Steps
Unless the surgery is for an emergency patient, these are the general SOP for booking a surgical appointment:
The patient has to visit an outpatient department.
Ask written medical advice from the doctor regarding the type of surgery required
Visit the department of operation room to fill up the consent form.
The doctor of the patient and the operating room staff must sign the form.
Once the form is submitted, the patient shall undergo a few tests to determine whether you're fit for the surgery or not.
The concerned doctor will review the test results
If the patient is suitable for the surgery, he/she will receive the schedule of the operation.
If you are a patient with an emergency surgical need, the doctor may allow you to skip most of the steps and enter the operation room sooner.
What should be included in SOPs?
The complete format of SOPs varies depending on the field and the organization.  
The main characteristics of an SOP are:
Written document (not lore or word of mouth)
Sponsored and signed off by management
Templated
Numbered and titled for proper documentation
Added to document control
For day-to-day operations compliance
Reviewed regularly by the medical director and other authorized staff
Archived
The SOP generally comprises two parts: document control information and the full content that includes the greater detail of the procedures. 
Document Control Information
Company name
Business Address
Website
SOP Title
SOP number
Author
Date of effectivity
Review Date (SOPs should be formally reviewed every two years unless the review date is modified and approved by the management)
Headers and footers
SOP Content
Scope
Purpose
Roles and Responsibilities
References
Definition of Terms
Procedures
Appendices
Evaluation Criteria
Document History
Name and signature of the author, reviewers, and the authorized person to approve the SOP.
In a healthcare setup, the medical director typically reviews the SOPs and updates them as necessary.
Below is a sample template of an SOP document for medical practice.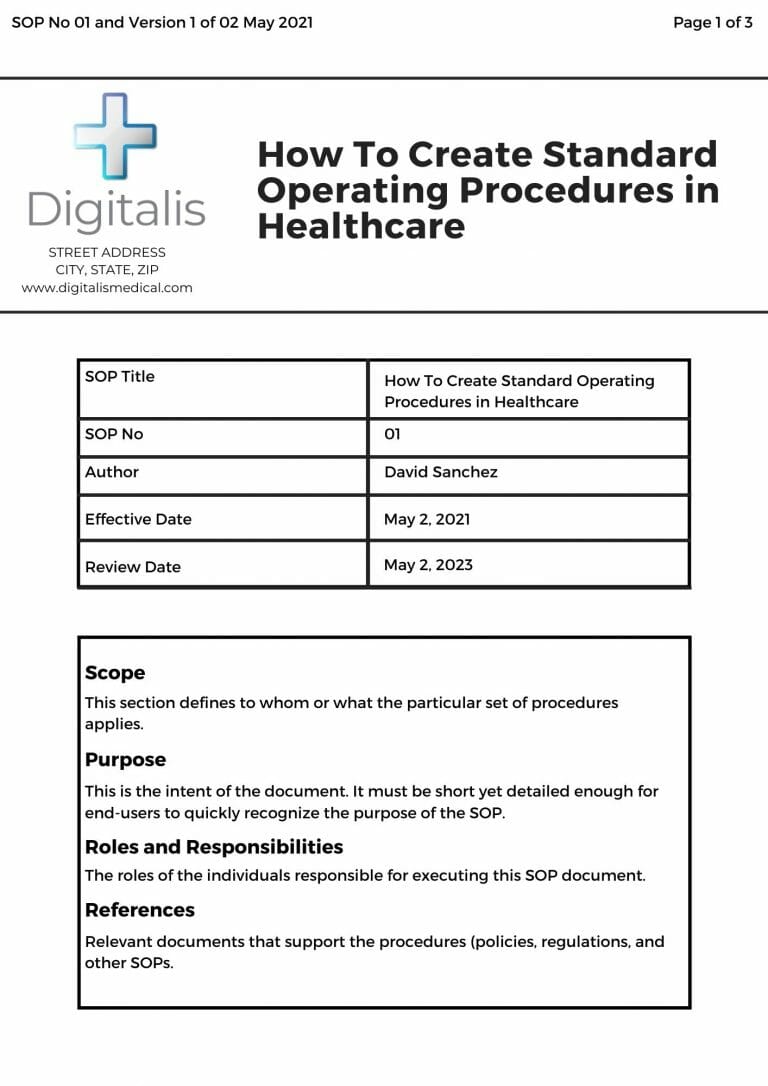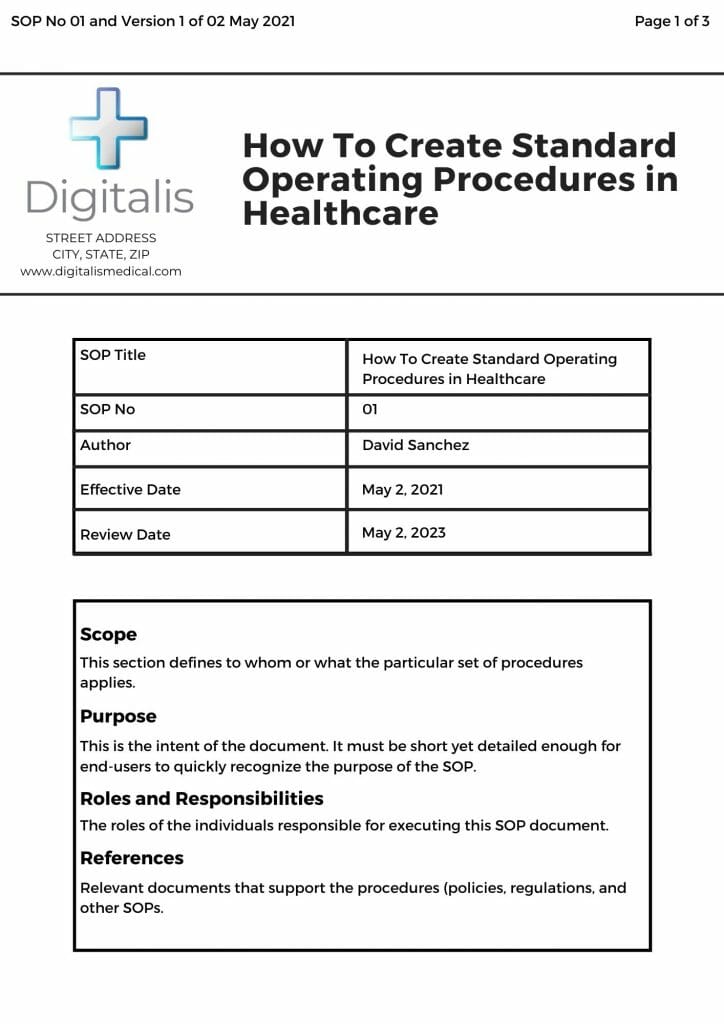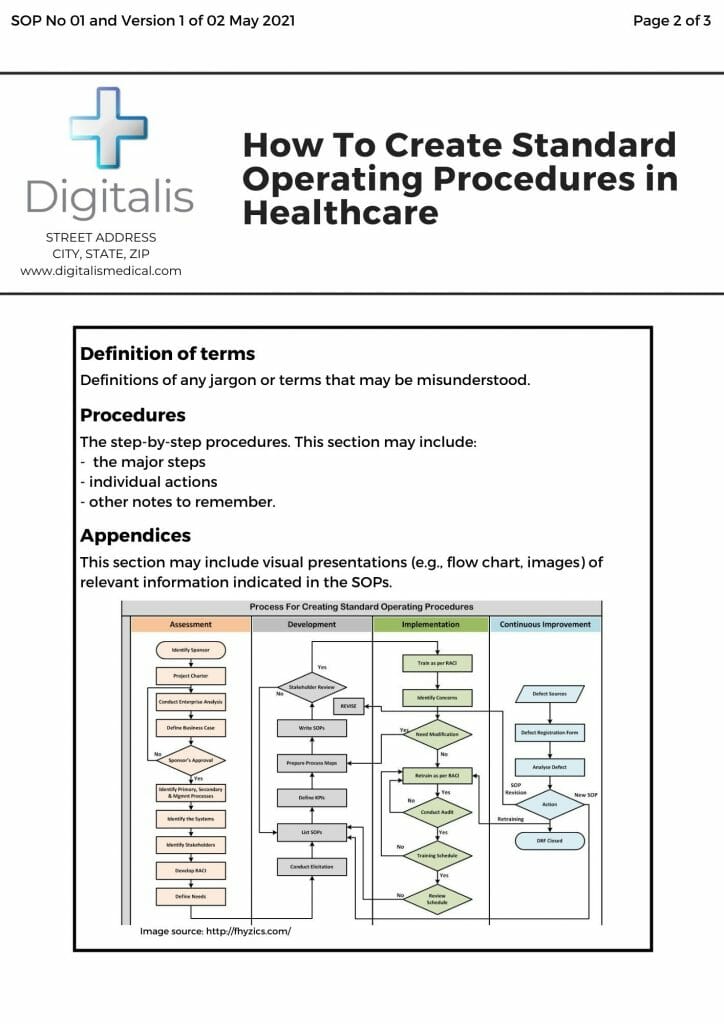 CLICK HERE: To Download These SOPs in PDF version! 
Improve the SOPs of Your Practice Today!
For an industry that deals with people's lives every day, implementing clear and standard guidelines on how to operate is not just time-efficient and productivity-boosting, it's also life-saving. 
Make sure everyone in the team understands your SOPs. Provide training, so they know how to follow all the procedures by mind and heart. Remember, even the most well-written SOPs may fail if they aren't implemented and followed accordingly.
One ingredient to a successful healthcare brand also is having a well-planned and well-executed marketing strategy to convert more customers and increase revenue. Employing SOPs to your healthcare marketing team is also recommended (e.g., SEO SOPs, social media marketing SOP).
Do you have any questions about creating an SOP for healthcare? Ask us in the comments section below!