5 Simple Steps to a Healthcare Marketing Plan
As medical professionals, we know you want to bring outstanding care to as many patients as you can. 
After all, you have one goal: bring in more new patients, right? 
However, one of the greatest challenges when setting up a new practice is growing your patient-base. 
Just like any other industry, having a well-curated marketing plan can boost your medical business exponentially. 
There are so many ways to market your practice nowadays. You can utilize the tried-and-tested advertisements through radio, newspapers, and TV ads. 
Alternatively, with newer technologies available, you can also promote your services online through emails, SEO, Google ads, and social media. 
Marketing Strategies for Your Medical Practice: 
Radio ads

Newspaper ads

Mailer ads

Google ads

Facebook ads

Maybe some TV ads

Maybe some search engine optimization
Honestly, it hurts to just look at this list. 
"Where do I start? Should you hire a marketing agency for each advertisement channel to get your practice started?" 
David Sanchez, CEO and founder of Digitalis Medical, leads an award-winning digital healthcare marketing company and shares his expert advice in developing a healthcare marketing plan. 
His number one tip? " I don't recommend hiring five agencies to use the shotgun approach."  
The Challenge: Let's face it, everybody wants your budget in their bank account, but how do you know what's going to work? 
The Answer: You don't.
So, most professionals in the healthcare industry do nothing. 
"We weren't trained to do marketing in medical school!"
Major Red Flag:  If you do feel like you're wasting money on advertising, you probably are.
"You can do healthcare marketing simply and effectively, without feeling like you're wasting money." 
Let's make your life easier and start from square one. 
Here are 5 simple and actionable steps in developing an effective marketing plan:
Your ultimate goal when developing a marketing plan is to increase your patient-base. 
However, simply saying that you want more patients won't magically create an effective marketing strategy. 
As with any plan, it's SMART to start with a goal. 
When envisioning where you want your practice to be, make sure to make your business goals: 
Specific:

Clear and well-defined 

Measurable:

With specific criteria that measure your progress towards the accomplishment of the goal

Achievable

: Attainable and not impossible to achieve

Realistic:

Within reach and relevant to your career's purpose

Timely:

With a clearly defined timeline, including a starting date and a target date. The purpose is to create urgency.
In terms of your healthcare marketing goals, consider the following: 
How much revenue do you want to produce per month?

How many new patients do you want per month?

What type of services will you offer?

If you want to expand, how do you want to expand?
How Should I Grow My Practice?
Get into the details of the overhead cost for each scenario. When tossing around ideas, it's usually best to brainstorm and write down every single one you come up with. 
Research has shown that the more ideas you have, the more good ideas you will have. Don't worry about having the best ideas at first. Just get your thoughts down.
Example Scenarios of How to Expand Your Practice: 
Open your practice in multiple locations.

We see this all the time with Fresenius and dialysis clinics or urgent care.

Expand into a different place of service

. Explore clinic location options such as hospitals, outpatient clinics, urgent care, mobile clinic, freestanding emergency department, etc.

Offer new services or products

. For example, a dermatologist can start creating her own line of cosmetics or skin care products.

Expand geographically

. Look into the possibility of opening your clinic in other cities, states, or countries. 

Create a strategic partnership that expands your patient base

. For example, you can establish a clinic inside of a shopping center (eg. Walmart) 

Acquire other practices to reach more patients.

Create relationships with other practices whose patients would also benefit from your services. A good example: a neurology practice acquiring a neurosurgery practice. 

Create a high-volume, low-cost or a high-cost low-volume brand for specific markets.

For example, a plastic surgeon whose main service has been cosmetic surgery could market to private pay patients for local-anesthesia only wart removal [high volume, low cost] or full-body sculpting [low volume, high cost]. 
"Most businesses overestimate what they can accomplish in a year, but underestimate what they can accomplish in 10 years."
Bill Gates 
Craft a Business Model for Your Practice
A business model exists to bring direction towards your goal — to acquire customers and earn money. 
When it comes to creating a profitable business model, it's more than just designing a nice logo. 
For medical practitioners, you have to consider the following to bring a holistic approach towards your business goals: 
Who are your target patients? 

What health issues or problems do you want to solve for your patients? 

What services do you plan to deliver? 

How will you reach, acquire, and retain your patients? 

What makes you different from other doctors or clinics? 

How do you plan to generate revenue? 

What's your cost structure and profit margin? 
You want to craft a unique way to serve people that allows you to excel in a way nobody else can in your niche.
There are 3 great books I recommend to help wrap your brain around this concept.
I can dig deeper into crafting a business model in another article, but this step really is critical before launching your healthcare marketing plan. 
Identify Your Ideal Patient
Do you want to serve and care for every single possible patient? Truth be told, this simply isn't realistic. 
An efficient healthcare marketing plan will promote specifically to its target market. This can be defined by having enough knowledge and information about your existing and prospective patients. 
It's time to ask yourself, "Who will benefit the most from my medical services?"
A good approach to find your ideal patient is to look at your existing patient base. What things do they have in common? 
If you don't have an existing patient base, you can list down their possible profiles based on the needs and problems you want to address according to your expertise. 
In addition, here are other things to consider when crafting your unique patient value profile: 
What is your patient demographic?

What do your patients need?

What would appeal to your patient about your practice ?

What are the unique offerings that your clinical team provides?
Knowing the values of your patient profiles enables a straightforward healthcare marketing plan, which speaks directly to your patients' needs and what is most important to them as they search online for a healthcare provider.
Once you have defined your desired patients, every step of your marketing strategy — from web pages, blogs, to video content — will be geared toward them so that you can build lasting relationships with your patients.
Create a Testing Strategy
I created a system for testing growth strategies based on the Bullseye Method outlined by Gabriel Weinberg in his book Traction: How Any Startup Can Achieve Explosive Customer Growth.
There are at least 19 unique ways explosively successful companies grow. Many, if not all of them, can be implemented for a healthcare organization.
Decide on everything you're willing to test for growth
"When it comes to growth, the more things you try, the better. You will be surprised at the results."
I've been surprised at the great results I got for something I thought would be a waste, and the crickets I heard after a test that I thought would be a home run.
Growth Strategy Checklist:  
Create a Google sheet

with a separate tab for every category you're willing to test. This will help you visually separate all your ideas.
 

List every marketing idea

for each category on the corresponding tab.
It's nice because you can see the potential revenue, money investment, time investment, and how long it will take to pay off, all on one screen.
I prefer to map everything out and document progress instead of throwing the proverbial spaghetti-against-the-wall.
Test your ideas at least weekly, and as cheaply as possible to get measurable results.
I've tried $100 and $1,000 tests effectively.
Everything I'm currently testing will be displayed in the Middle Ring tab.
"As time goes on, I add new ideas, but mostly remove ideas that didn't pass the test with flying colors."
I may continue something that I feel will pay off in the future, but doesn't give an avalanche of new customers immediately. 
Networking, SEO, and content marketing fall into this category. They pay off immensely, but often are underwhelming at first because they work with a Snowball Effect.
Measure Results and Revise Your Marketing Plan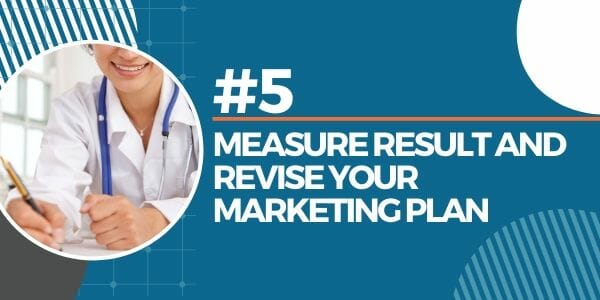 "If you're treating a patient for hypertension with metoprolol, what's the point of the treatment if his blood pressure never gets checked on a followup visit?"
When it comes to assessing your healthcare marketing plan, it's critical to know what's working and what's not.
If you can't measure it, you can't improve it. I could argue that if you can't measure it, why waste the money on it?
Of course, not everything in marketing is tangible, but I think you understand what I mean.
What You Know Will Help You
Our Digitalis Reporting software is a marketing dashboard that shows marketing performance for pretty much everything: 
Website traffic and where it's coming from

Local Google My Business performance

Google Ads

Facebook Ads

Social media account traffic and engagement

Email marketing

Call tracking
It has a breakdown of the types of traffic to your website, how long people stay on your site, and how many of them actually contact you from each traffic source.
I'm not saying you have to get as in-depth as me, but you have to know where your results are coming from.
On the other hand, Google Analytics and other tools like Oribi also help you to analyze where your website traffic is coming from and which marketing is more effective.
I review the results weekly or monthly, depending on how fast things are changing at the time.
Google Analytics is a free web analytics tool offered by Google to help you analyze your website traffic.
It measures where you traffic is coming from (dimensions) and the metrics that come along with it (eg. pageviews, time on page, bounce rate, and page value). 
It offers so much data and so many reports on your website's acquisition, behavior, and conversion. 
However, you have to make sure to configure your conversions correctly, or you won't be able to accurately measure marketing effectiveness.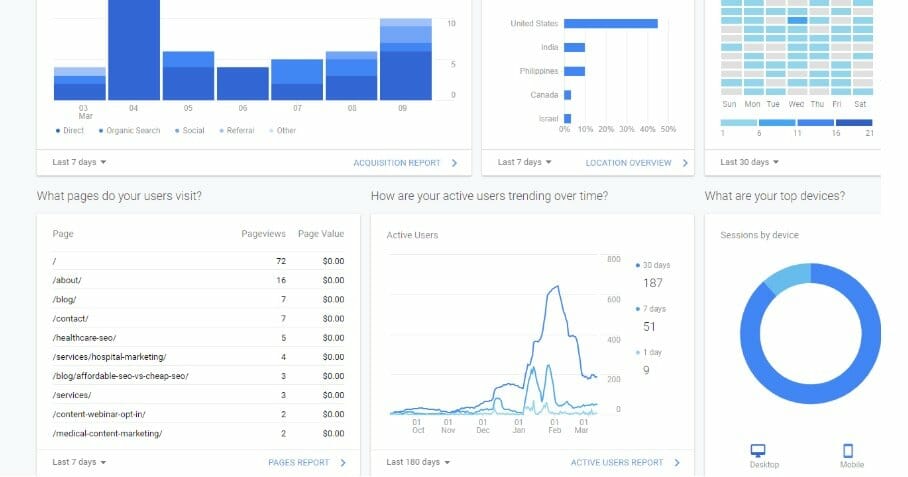 Oribi is more user-friendly and really does all the work for you. It's worth the investment.
Instead of 'more data', Oribi gets you insights to optimize your marketing efforts and drive conversions. 
This analytics tool is as flexible and quick as you need to be, and includes actionable insights and with all the features you need to analyze and improve your online efforts, such as: 
Marketing Channel Analysis

Button Performance

Landing Page Tracking

Individual Visitor Journeys

Event Correlations

Smart Funnels

Health Check

Reports
… and much more.
Get Back to Testing
So looking at my marketing dashboard, I type the results in my spreadsheet to track:
The cost per acquisition

Time to return on investment

The total cost of that channel

Number of customers from that channel
"When you find something that works really well, go all in on that, and test new ways to expand on what's working."
You also want to keep in mind the quality of patients you get from each channel. 
If one channel brings in a ton of patients, but 80% of them have a low-reimbursing insurance plan, that may not help as much as fewer patients from a high-paying plan.
Documenting everything eliminates the guesswork.
Developing a healthcare marketing plan is essential to drive your medical business towards success. With these simple and actionable steps, you're on your way toward the career you've worked hard for. 
I hope this information makes your life easier and provides a framework for creating an effective healthcare marketing plan.
Are you a healthcare professional looking to market your practice online with the help of medical experts? Get in touch with us and we'll get you started! 
You can also contact us for a free breakthrough session to learn the top 3 ways you can improve your website traffic! 
Please leave comments or questions below, as well as success stories or suggestions for other tools to develop a marketing plan. 
These guys really know what they are talking about!
I have just started working with them for SEO, and have already seen results!