SEO Web Design Case Study - North Valley Women's Care
Do you want to open a new medical practice but don't know where or how to get new patients?
Dr. Melissa Austin was in the same place as you. 
She wanted to branch out to open her own practice and needed an effective method to get new patients fast.
Read how she achieved a flourishing practice just 3 months after she opened her doors by working with me and my team at Digitalis Medical. 
First Things First: Starting with Business Goals
Dr. Austin was ready to start her own OB-GYN private practice. She had a location arranged and was in the middle of hiring new staff when we met.
She planned to work in a temporary location for several months until her permanent location was up and running, which was actually across the parking lot in another building.
She is an ambitious medical professional who was ready to start seeing patients right away to provide women's health care services with new state-of-the-art medical equipment.
Her vision was so vibrant and tangible, I could almost touch it. 
We were starting from the ground up to get her to where she wanted to be and fast!
The first thing she needed was a brand identity for her practice — a logo and a website with the aesthetics to match were quickly put into the works.
Along with brand design, her goal was to utilize the effectiveness of organic and local search results. 
She wanted her new patients to easily find her through Google. 
"You have to start with the client's goals in mind, or else you'll end up somewhere other than where they want to be." – David
It was time to head to the whiteboard.
Choosing a Target Audience
First, we needed to know which type of patients she wanted to appeal to. 
A target patient audience is essential to determine the content we needed to write, the services and procedures to promote, and which pages to integrate into the website structure.
Dr. Austin wanted to offer premium quality obstetrics and gynecological services to women from across the Phoenix metro area. 
Her focus: to appeal to women in this area even though she was located on the west side of the Valley, in the Peoria/Glendale area.
Now that we had a direction for our digital marketing strategy, we were ready to get to work. 
Start with Creating a Brand
Knowing these important details helped us to know the type of look and feel Dr. Austin was aiming for. 
Armed with a few examples of website designs and logos she liked, we created several ideas and landed on the one that reflected her practice the most.
With a visual concept with shapes, colors, and fonts on the board, the website was next.
Our web design team implemented the latest in design SEO (search engine optimization) strategies to make the website appealing, easy-to-use, and quick to load – all while incorporating Dr. Austin's friendly yet upscale style.
SEO Web Design: Combining the Best of Both Worlds
SEO is the strategic implementation of tactics into a website based on analytical findings. The purpose is to boost a website's ranking in search engines and get to the top of search engines' results list. 
Why is this important? This is where the majority of click-throughs happen.  
Marrying the creative with the technical aspects is what comes next.
User Experience and Elegant Design
With Dr. Austin's goal in mind, we needed to build a design that would facilitate a substantial increase in new patients.
A basic rule of thumb I like to reiterate is, "You always need to design websites for the patients!" – David
Like every medical website, we let the patients drive the design. Why? Because many patients form their opinion whether to trust a provider or not based on the website.
We also apply other influential factors like:
An easy-to-navigate layout where patients can find answers to their questions

Easily accessible and valuable patient education resources

Easy access to schedule an appointment
SEO Strategy
With Dr. Austin being at a temporary location, it made more sense to start with an emphasis on organic and technical SEO, rather than local citations.
This meant that we had to nail these specific areas:
Site structure

Authoritative content

Site speed

Conversion points 
These were the main players in order to gain traffic quickly once the site went live.
Incorporating SEO Into the Web Design
After the design was optimized for search engines, the content for the web pages needed to be constructed by our expert medical writers.
First, we integrated strong cornerstone content to educate patients using the following criteria:
Easy to find on the menu

Demonstrating the expertise of the practice

Answering questions that local patients were asking in their own words

Authoritative content that would rank high on search engines as quickly as possible
A strong site structure featuring authoritative cornerstone content was the perfect strategy for Dr. Austin to receive a powerful and fast increase in organic traffic. 
Blog Writing and Design to Appeal to New Patients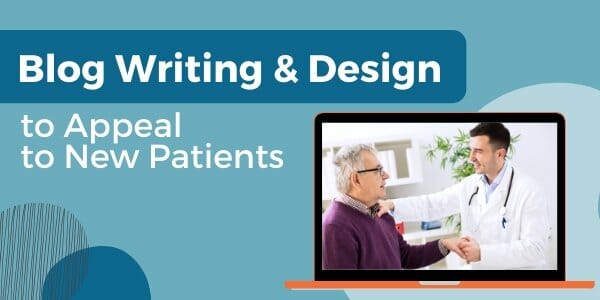 Staying in line with our motto also means that the information provided on the website needs to appeal to the niche patient base. 
The content and how it is delivered to the readers plays a huge role in driving more traffic to the website.
Content that Connects
With direction from Dr. Austin and Google Analytics, our medical SEO content writers focused on creating blogs that Dr. Austin's patients would find helpful, informative, and trustworthy. 
Learning what her patient base was searching for on Google helped us to tailor the content to meet her patients' needs.
Patients increase their level of trust with a provider when the provider offers effective and evidence-based solutions, guidance, and tips for their health problems.
Integrating User Experience Into the Content
When people naturally come across something that interests them, they will navigate through a website more. 
The longer visitors stay on your website, the higher Google will rank your site.
We designed a section on the menu called Women's Health Education. This section features popular women's health articles that we wrote to connect with Dr. Austin's patient base.
To increase her conversion rates, we added a "Book An Appointment" call to action to the menu bar. We designed it to float, following readers as they scrolled down the page. 
While reading through the content, readers start to gain more trust with the provider. The "Book An Appointment" button is right there once the decision to call is made.
The accessibility of this button greatly increases the number of calls to the practice. 
SEO Web Design Results: A Beautiful Website, Powerful Content, Website Traffic, and More Patients
The site went live on June 1, 2019. As you can see, the number of local searches and visibility increased very quickly.
Most of the website visitors were new too.
Dr. Austin's local Google listing was viewed 1,498 times on month 3 after going live with the website.
Her website traffic also quickly grew to over 1,200 visitors by month 3!
Dr. Austin was getting phone calls from new patients every day who found her on Google. 
In comparison, If she had paid for Google Ads for the same amount of traffic, she would have been paying $6,000-$12,000 per month for the ads alone!
The key to North Valley Women's Care's success was to approach the web design with the right strategy while balancing Dr. Austin's needs with the patients' needs.
Get Your Practice To Where You Want It To Be
If you want to experience the amazing results that Dr. Austin achieved, call the Digitalis Medical marketing team to get started.
We will work with you to find and implement the best-fit digital marketing strategy to help your practice thrive.
Don't wait any longer. Call today to start the conversation. Your patients are looking for you.
David Sanchez, RN, is the founder and CEO of Digitalis Medical. He opened an addiction treatment center to help save the lives of those bound by drugs and alcohol. During this time he learned first hand the intricacies of healthcare marketing. His experience has afforded him the expertise and knowledge to share with other medical professionals who want to grow their medical businesses.