Unlike many other marketing practices, SEO is one that changes with the times. 
Google is finding more ways to improve their search ranking systems. What was once a bot-operated search machine, now functions much more like a human. 
It wasn't too long ago when keywords ruled how well websites ranked. This led to a "keyword stuffing" approach. This is when a site would be loaded with the keywords that they were trying to rank for.
However, with the changes and advances Google has implemented, the search engine now knows when a website with valuable information is credible enough to deserve the number one spot. 
How do you keep up with the ever-changing SEO trends to get your medical practice's website at the top of the search engine's results list?
Come with us as  we guide you through the 8 must-follow healthcare SEO trends in 2020! 
First, let's take a refresher on SEO and why it's important for your healthcare practice.
Check Out The Latest Trends in Healthcare Marketing!
Ever wonder how Google ranks its searches? The science behind it is SEO. 
SEO or Search Engine Optimization is a tailored strategy that is applied to your website to boost its digital visibility. 
The main goal of applying SEO is to get your website to appear at the top of Google's results list and directly in front of your target audience of patients.
As your website moves toward the top of Google's results list, statistics show that more click-throughs (people spending more time on your site) occur leading to higher conversion rates.
According to the latest statistics, a website that lands in the top 3 of Google's result page gains at least 75.1% of the clicks. 
Just imagine how many people you can convert from readers to your future patients!  
Why Implement SEO Into Your Medical Practice's Website?
At one point in your life, you know you've tried to search for a health-related topic online. Whether it be a new diet craze or maybe a home remedy for some aches and pains. 
With information so readily available at our fingertips, it is easy to run a quick query for symptoms. In fact, 1 out of 20 Google searches is health-related.
If you run a health clinic or personal practice, the best way to market your medical business online is through SEO. 
Through the right medical SEO strategies, you'll be able to: 
Deliver fact-based and accurate information to your clients 

Increase your facility's visibility online 

Drive more traffic to your medical website 

Gain your patients' trust and confidence  

Bring more patients to your clinic 
Applying the latest SEO trends will definitely give various advantages and benefits to your medical business. 
Learn More About Our Services!
Top 8 New SEO Trends in the Healthcare Industry [April, 2020 UPDATE]
1. Start optimizing for "zero-click" searches
Ever notice the slight changes when searching for something in Google nowadays? 
It doesn't just post the links that answer your queries. You can now access the information you want right at Google's results pages! 
Here's what you can find: 
How-to, what, and why questions are directly answered in the featured snippets

There's a "People Also Ask" box filled with questions that are related to your search  

Related searches can also be found at the end of every page 
Digital marketers refer to these featured snippets as "zero-click" searches since users don't need to click on a website anymore to get the answers they need. 
Featured snippets and zero-click searches have drastically changed SEO in the last year. According to a digital marketing study, featured snippets even get more click throughs than the first organic search result. 
What Can You Do? 
It's time to take advantage of zero-click searches.
When making content to include on your health website, your goal should be to provide succinct information that will benefit your potential patients. 
How? Start answering question-based search queries and keywords for topics that you specialize in. 
You can also use the questions listed on the "people also ask" box or those in the related-search to provide a more in-depth discussion. 
2. Remember, B.E.R.T. likes to E.A.T.
"How to manage high blood pressure "
"Tips to lower blood pressure" 
"What will keep my blood pressure low?"
There are so many ways for someone to search for the same health-related topic. 
For Google to provide accurate information even with varying searches, they use special tools to provide you with the same results. 
In 2018, Google introduced a neural network-based technique for natural language processing (NLP) called Bidirectional Encoder Representations from Transformers (BERT). 
This technology ultimately made Google understand a user's search intent better than ever!  
What Can You Do? 
The B.E.R.T. model influences 1 in 10 Google queries. If you optimize your medical website according to B.E.R.T., you can boost yourself to the top of Google's search rankings.
This can be best done when you apply the E.A.T principle: 
E

xpertise. Your website should showcase your expertise on a certain health topic 

A

uthority. Your blog should display you, a medical expert, as an authority figure. 

T

rustworthiness. Build your website's credibility by having other trusted medical sites to link to you. 
The E.A.T. Principle can be established through the following techniques: 
Take a closer look at the details of your content. It's much better to write quality, in-depth articles with no added fluff. 

Your site structure should have a purpose. Create web pages that serve specific functions. 

Make your content engaging, accurate, and informative. As a health expert, this is incredibly important. 

Grammar matters. Your content should be double-checked by an editor or another writer. 
3. Mobile SEO should be a priority
It's a fact: we use our smartphones more than desktops or tablets.  
According to recent statistics, 51% use their mobile devices, 45.6% are on their desktops, and only 2.65% use their tablets when searching online. 
To accommodate its user's changing behaviors, Google now follows mobile-first indexing to rank its search results. 
This means that Google predominantly uses the mobile version of the content for indexing and ranking. 
Since people are searching more on their mobile devices, Googlebot first crawls and indexes pages from the point-of-view of a smartphone user. 
What Can You Do? 
It's time for your health website to prioritize and optimize for your patients who are on their mobile devices. 
This entails improvement on your mobile user experience and syncing technical SEO efforts for both desktop and mobile. 
4. Focus on improving your site's user experience
Have you ever visited a website and got frustrated at how slow its web pages were loading? 
Page load speed doesn't only affect your website traffic. According to SEO experts, your website's user experience also influences your ranking on Google! 
What Can You Do? 
Build a user-friendly site structure so that your patients can easily find the information they need on your website. 
Click through the pages on your website to see if you get frustrated waiting for the content to load. If you get frustrated, it's likely that the patients you are trying to reach will too.
With an organized and easy-to-navigate medical website, you'll rank higher against competing clinics and attract more patients in your practice. 
5. Influencer marketing can boost search rankings
Influencers are internet personalities that have grown a following as they showcase their life and talents online. 
They aren't only great for social media and product-based businesses. In healthcare, influencers can also play a huge role to boost your rankings online. 
This digital marketing practice has been proven effective, with 17% of businesses investing their budgets for influencers. 
How do they help get you to the top of Google's search result pages? 
You need quality reviews from a trusted influencer to affect your website's engagement metrics. 
Simply put, the more engagement you get from an influencer, the higher you rank. 
What Can You Do? 
As a medical practitioner, reviews from your patients improve your reputation and credibility online. 
More so, you can leverage your connection with known digital personalities by having them promote your medical services. For example, 
If you are a pediatrician, you can scout for mom bloggers 

If you are an aesthetician, you can have a beauty influencer promote your treatments 

If you are OB-GYN, you can connect with breastfeeding mothers 
Influencers, no matter the size of their audience, can have a direct and positive effect on your engagement metrics. 
With such, Google perceives you as a trustworthy medical expert and will rank you higher in the search results.
6. Google My Business popularity and engagement will impact local businesses' SEO
When you search for "clinic near me", you'll find a search box containing all the clinics surrounding your area with their ratings. 
Have you noticed that clinics that are rated well with positive reviews also have their websites on the first page of Google's results list? 
Since 46% of searches are based on local search intent, search engines have used these metrics as a factor for ranking websites as well. 
The more interactions and engagements you get on your Google My Business profile results in better rankings as a medical practitioner in your area. 
What Can You Do? 
In 2020, your Google My Business profile plays a major role in your SEO efforts as it helps you gain credibility and popularity as a medical expert in your field. 
Consider improving the following in your Google My Business account: 
Optimize your Google My Business account to include your location's address, phone  number, service descriptions, and photos

Encourage your patients to leave reviews 

Provide a testimonial section in your website that reflects the reviews you get from Google 

Aim for high-quality and exceptional service. Patients are more likely to leave positive reviews for doctors they feel go above and beyond for them. 
7. Videos are becoming a rising star in content marketing
People have changed their preferences when it comes to gaining information. 
Instead of going through long lists and articles, many are choosing to be informed through videos and vlogs. 
Google also loves content in video form! 
In fact, according to Search Engine Watch, websites with video content embedded in their blogs and pages are 50 times more likely to show up on the first pages of Google. 
What Can You Do? 
Repurpose your blogs and other content into video formats and don't forget to embed these videos in between related pages on your site. 
Your patients will get more engaged in the information posted on your website and help your medical practice to rank higher.
8. Voice search (VSEO) will start to dominate
"Siri, who's the best doctor in my town?" 
New technologies also introduce changes that are new in SEO. Undeniably, people want convenience, even when it comes to searching for something online. 
Voice search is predicted to dominate SEO in 2020. In fact, surveys have shown that at least 60% of smartphone users have tried voice search in the last year. 
What Can You Do? 
When writing content, experiment and incorporate long-tail keywords that patients are likely to ask in a voice search. 
When answering a long-tail query, be sure to respond as succinctly and as accurately as you can. 
Google pools most of its answers from factual and authoritative websites. 
As you are a medical expert, this is your time to address, in-depth, your patients' most frequently asked questions. 
9. Maximize Google's New Rich Result Test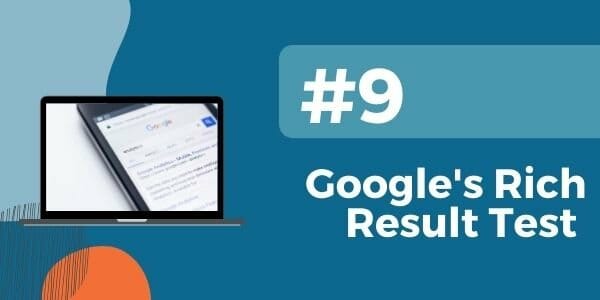 Have you been using Google's Structured Data Testing Tool to keep track of how you appear on search results? 
Here's something new! Google announced the release of the Rich Results Test — a feature that will help you test your structured data and preview your rich result. 
In addition, the Rich Result Test also allows you to: 
Show which Search feature enhancements are valid for the markup you are providing 

Handle dynamically loaded structured data markup more effectively 

Render both mobile and desktop versions of a result 

Fully aligned with Search Console reports.
The test will report errors and warnings detected on your pag
To Get Your Medical Business To The Top!
It's good to get informed about the latest trends and practices in healthcare SEO. It's a necessary marketing tool that will leverage your healthcare business online. 
As a busy healthcare professional, knowing these top trends can help you find the right healthcare SEO provider for your business. 
Are you ready to get your medical practice at the top of Google's search results? 
At Digitalis Medical, we align our specialized Healthcare SEO campaign strategy with your company's specific digital marketing goals. 
Did this blog provide helpful tips for you? Have you tried any of these trends and found positive results?
Share your experience with us and other healthcare professionals in our comment section below!