Ready for More Online Visibility? Start with a Complete Healthcare SEO Strategy.
Google is the most popular search hub for world-wide-web users' health-related questions, a billion in fact. 
Is your Medical Practice showing up in the results list to show your potential patients that you provide the answers to their health questions?
The statistics are astonishing as to how many search queries are related to health. 
Seventy thousand health searches are entered every minute. 
Now is the time to take strategic action to capitalize on your own potential patients' needs.
Healthcare SEO = Be Seen Everywhere
What is SEO? SEO stands for search engine optimization. This buzz-worthy term means that your website has been strategically constructed to perform at its peak with search engines like Google.
SEO is a technical process to increase your website's rankings with search engines. 
Digitalis is your expert Healthcare SEO company to get your organization's name, website, and services to the top of the search engine results pages (SERPs) and in front of your most wanted clients. 
As a health and wellness SEO company, we have created the most robust method to provide your healthcare organization with the most effective, sophisticated and top-of-the-line Healthcare SEO marketing.
Working with Digitalis for your medical SEO services needs will give you the ultimate advantage over your competitors who are also vying for the highest listings on the results page.
Experience the Digitalis Difference
At Digitalis, we align our specialized Healthcare SEO campaign strategy with your company's specific digital marketing goals. 
The SEO for medical professionals campaign we customize for you will drive traffic to your website, attract users to explore your website, and compel potential patients to take measurable action steps and increase conversion rates through actions such as patients:
Contacting your office

Scheduling an appointment

Subscribing to a newsletter

Following you on social media

Promoting positive reviews

And more…
As a We are constantly in action to provide you the best SEO health services. The online world is steadily evolving and to keep our clients ahead of the competition we maintain an upward momentum with our proactive proprietary approach.
The Digitalis Growth System
Let's face it: you want to grow the number of patients your providers care for and to expand your practice. 
The best way to grow your practice is by increasing awareness about your organization, develop heightened brand recognition, and to create and build trust with your target audience.
Here, we introduce to you the Digitalis Growth System that will help you meet and, more often than not, exceed your healthcare marketing goals:
1. The Laser Focus Technique
The Process: Optimize your Google My Business profile with content tailored to your target audience using specific keywords
Google My Business is a free feature from Google for organizations to take advantage of to capitalize on local SEO and organic search results.
As part of our hospital SEO services, Digitalis researches the specific search terms that your target patient audience is searching for online to find your services in your exact area, taking full advantage of this local SEO tool. 
From there, we optimize your Google My Business profile providing detailed, accurate, and current information in the provided fields to improve your rankings in a local search. 
A lot of organizations aren't even aware of this free service from Google. As an SEO agency for medical practitioners, Digitalis takes this local SEO feature a step further by optimizing it to gain the max benefit for our clients. 
2. Google Handshake Method
The Process: Thoroughly optimize the onsite data on your website 
Fix Any Errors On The Site Itself
Quality SEO will include the service of fixing any bugs on your website. Google's reputation relies on returning valuable and reliable results to its end users. This includes websites that have functional pages and links bringing users directly to the information they seek, as stated on the website. 
Google will penalize websites who have broken (non-working) internal and external links. 
You will also lose trust with your audience and their attention as they will quickly "bounce" off your site to get the information they need. 
Creating a high bounce rate also tells Google that your site is not valuable to users.
Part of the comprehensive SEO services we provide includes a continual check of the links on your website. 
We make sure images are loading correctly and we review the on-page user experience, such as your website's performance and speed. 
Any errors that are found will be fixed in order to improve ranking factors with Google.
Optimized Metadata
Google's search algorithm considers many factors as it returns results. 
Digitalis strategically creates metadata for each webpage, including title tags and image alt text to help Google effectively crawl its contents and deem it worthy for the top of the list. 
The metadata is the information that is visible to the end-user on the SERPs. 
This includes the title and meta descriptions for each page which need to be creatively written to generate user click-throughs.
Integrate Authoritative Cornerstone Content to Your Website
The expert medical SEO writing team of Digitalis will create bonafide authoritative material to include on your web pages. 
Google only returns content in the results list that is unique with valuable and easy-to-read information. 
Cornerstone content will serve the purpose of emphasizing, showcasing and highlighting your specific medical services and expertise. 
The content is strategically written in order to surpass your competitors on the results list. 
3. Our Perfect Fit Writing Method
The Process: Content writing for search engine optimization
Customized Content Strategy 
Each one of our clients will receive a customized content strategy that incorporates audience-targeted keywords. 
The content that is created for your website will be unique and specific to your services and how they appeal to your target audience. 
We employ an innovative keyword analysis tool to see what your potential patients are searching for. 
We incorporate these golden key search terms into your content to improve your relevancy rankings on search engine results pages.
Unique Patient Value Profile
To ensure that the content is relevant to your patient audience, we ask you the qualities and characteristics that pertain to your specific target audience. 
This is key to producing material that is specifically targeted to your audience who will generate quality leads and conversions.
We don't just drive traffic to your website, we bring forth growth and expansion to your practice.
Create Ongoing Authoritative, Fresh Content
To effectively reach your Unique Patient Value Profile, our expert medical SEO marketers follow a strategic timeline to produce and post content to your website. 
Digitalis Delivers the best in SEO content strategy:
Content is designed and written to stay in line with your business goals while speaking directly to the needs of your patients. Keeping the content fresh and unique will pertain to the many questions and areas that concern your target audience. 

Digitalis stays on top of the latest searches and key terms as they relate to your practice and drives content to be the source for answers. 

We outperform your competition by staying in the know of what your competitors are doing to provide you with the advantage of having better and more authoritative information on the internet. 

Our industry writers produce content that is just perfect in length to encourage longer dwell time with users while providing robust detailed information to cover a high-demand topic
A continual flow of high-quality and authoritative content production is an extremely powerful strategy in Healthcare SEO. It will increase trust and credibility with your potential clients and increase rankings on Google. 
As part of your SEO campaign package, you will receive the recommended content production schedule that will be most effective to increase your online presence and website's authority.
4. Authority Building Method
The Process: Link building, the SEO strategy of getting other websites to link to your website
As Google crawls the world wide web for the best local results to return to its users, the number of other websites linking to your company's site is used to determine your website's value and place in the rankings. 
Digitalis uses these methods in your customized Medical SEO Campaign plan:
Local citation building
This is the tactic of listing your healthcare practice in local directories that include your practice's name, address and phone number (NAP). 
This listing will include an easy access method to your website via an external link. Popular listing services include Google, Apple Maps, Bing Places, Yelp, and hundreds of others.
Niche-specific citation building
Digitalis stays abreast of the best healthcare directories that are relevant to your specific services and will be where your potential patients are searching. 
Healthcare directories we like to use include Healthgrades.com, WebMD, and Vitals.
There are also many others for specific specialties and local areas like Phoenix or other major cities.
Map pack focused link building
Local SEO means ranking higher than local competitors.
We use unique methods to do this on the website itself, your Google My Business profile, and local promotion.
We typically see more website traffic within 3 months.
The Process: Thorough and efficient content promotion
We take content writing very seriously at Digitalis. We post with pride knowing that a lot of hard work went into its creation. 
We also want you to feel good and to trust that the content on your website accurately represents you as we strategically implement the search engine optimization methods. 
But we don't just stop after the content has been written and published, we continue to go to work to get this robust information recognized by other authoritative venues and industry leaders.
We not only want Google to find your website, but we want to proclaim your medical services, knowledge, and expertise in as many places as we can to help further promote your healthcare practice. 
To effectively do so, we employ the following methods of content promotion:
Step 1: Power Links
These links bring traffic, authority, and widespread visibility!
Word of mouth is the most effective marketing strategy to date, and it is the most budget-friendly. 
With the high-quality content on your website, we engage with innovative tools to promote your content on relevant, high-performing platforms.
Basically, your website pages become visible everywhere – through high traffic websites.
Step 2: Authority Links 
Our Authority Links are foundational for every website. 
We build them on an ongoing basis.
The types of links in this step include:
High Authority Local Citations
Industry-Specific Directories
General Business Directories
Blogging Platforms
Social Media
The more places you are, the more visible you are.
The key is consistency when it comes to healthcare SEO. 
Step 3: Booster Links
These link types include:
Email Outreach
Guest Posts
Forum Links
Plus other types
These types of links push a website over the edge with visibility and trust in the eyes of search engines.
The more external links to your site, the more authority you will gain, along with phone calls and local SEO visibility.
Are You Ready for What SEO Will Do for Your Healthcare Brand?
Digitalis works with healthcare organizations who are serious about and are ready for the growth expansion for their practice. 
Healthcare SEO strategies are proven to effectively drive traffic to websites and increase conversion rates. 
Implementing Healthcare SEO is crucial in staying ahead of the competition in the healthcare industry.  You need a healthcare search engine optimization firm that will serve as your growth partner!
Work With Trusted SEO Experts Who Specialize in Healthcare
There are some SEO tactics that your organization can implement without a professional marketing agency to increase local SEO results. 
Though, to get the most increased revenue that you're seeking, working with Digitalis will greatly exceed your expectations and efforts.
It is our pleasure to stay up-to-date with the ever-changing algorithms and SEO best practices to make sure your website is performing and ranking at the highest level possible.
Digitalis is in constant surveillance of your website's performance, running audits and checks to ensure the end-user experience is optimal and Google approved. 
We encourage you to call our SEO experts to start the conversation about enhancing your Healthcare SEO and to start seeing the results you want.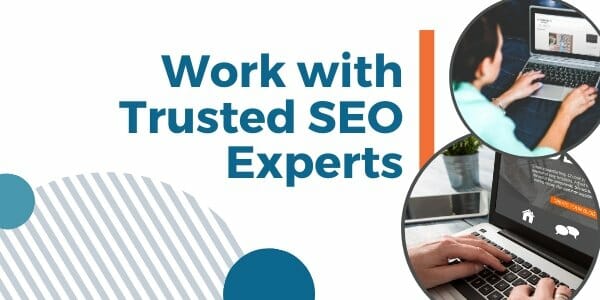 "I trust Digitalis to do their work like my patients trust me to do mine.
We are seeing a lot of new patients!"