When people's lives are on the line, communication and efficiency are essential in providing high-quality medical care. Unfortunately, a variety of issues might have an impact on the high-quality services provided to patients.
Execution of difficult medical marketing, search engine optimization, and reputation management are a few of these criteria.
Medscape's 2021 Physician Compensation Report shows that the average doctor spends approximately 15.6 hours per week doing paperwork, EHR documentation, reading clinical articles, and participating in professional associations. Many physicians were also affected by COVID-19, with 64% claiming that the pandemic made their burnout worse.
Healthcare organizations and clinics should look into solutions that allow medical practitioners to focus on their practice to build a firm foundation and avoid misconduct.
Outsourcing these time-consuming medical marketing activities is the greatest alternative. Digital marketing, building healthcare websites, and developing a marketing plan are all activities that can be outsourced to relieve health professionals of some of their responsibilities.
Are you ready to improve the efficiency of your practice? Learn more about the benefits of outsourcing and why you should outsource your medical advertising and marketing by reading on!
Why Should Doctors Outsource Marketing Services?
Medical professionals should spend more of their precious time saving lives than participating in marketing activities. Outsourcing businesses may be able to promote the services provided by a medical facility.
Moreover, healthcare workers must provide the best level of service to the patient.
Outsourcing marketing seeks to attract clients by providing a proven high-quality service and search engine results.
The Benefits of Outsourcing a Medical Marketing Service
The process of providing excellent healthcare marketing strategies in a medical facility is influenced by several elements. Below are the advantages of outsourcing medical marketing services for your practice:
Boosts productivity
Saves you time and money
Enables you to establish more control and safety
Experience when it comes to the digital marketing and medical industry
Offer style and creativity to your company and website
1. Boosts Productivity
Physical exhaustion makes it difficult for doctors to execute their jobs effectively. It increases their chances of making mistakes, which could lead to malpractice.
Outsourcing the workload of medical practitioners overcomes this problem by allowing them to focus on the execution of their healthcare practice.
Improving the patient experience entails minimizing wait times, rapidly addressing problems through phone or front desk, methodical appointment scheduling, and general harmonization of the customer service process through its online presence.
Furthermore, an improvement in production leads to an instant increase in cash flow as well as a significant gain in reputation.
[Read: Best Companies to Outsource Medical Office Tasks To]
2. Saves You Time and Money
Outsourcing medical digital marketing first raises concerns about corporate finances.
In retrospect, outsourcing can dramatically reduce the amount of time and money you spend doing these activities on your own when compared to recruiting new staff and investing in digital marketing software, equipment, healthcare SEO, additional computers, email marketing, and so on.
Human resources and sophisticated equipment are already in place for these duties when you outsource a healthcare marketing program.
Furthermore, because the outsourced staff already have the relevant qualifications and expertise, you do not have to waste time teaching them.
As a result, the money and time you have saved could be put to better use in the medical practice.
3. Enables You to Establish More Control and Safety
According to recent statistics, about 300,000 jobs get outsourced out of the US each year, and 24% of small businesses outsource to improve efficiency.
Maintaining the practice's focus on its critical areas guarantees that every phase of your procedure is coordinated.
Control and safety are top priorities for outsourced healthcare marketing services; thus, they already have the systems and processes in place.
The Health Insurance Portability and Accountability Act of 1996 (HIPAA) requires third-party providers to adhere to HIPAA, which helps to protect private patient information received by the medical institution.
Trust is maintained not only between the medical practice and the outsourcing healthcare marketing company but also between the patients, thanks to strict adherence to HIPAA and basic work etiquette.
4. Experience When it Comes to the Digital Marketing and Medical Industry
Naturally, you expect your potential healthcare digital marketing company to be a marketing campaign expert.
Some firms specialize in a specific marketing approach or area, such as search engine optimization, social media marketing, or advertising. With 90% of clients expecting a consistent brand experience across all channels, it is essential to select an organization that can match your patients' expectations.
From direct mail to your website, your healthcare marketer can create and implement refined and well-branded material across all platforms.
It is critical to locate a firm that can handle everything from SEO to social media marketing, lead generation, website design, Google AdWords and PPC campaigns, user experience, inbound marketing, and video marketing.
As a result, you can design a high-quality and cost-effective digital marketing strategy.
[Related: 7 Things To Look For When Hiring A Healthcare Digital Marketing Agency]
5. Offer Style and Creativity to Your Company and Website
To create and conduct digital marketing campaigns, you must be creative. As a doctor, you wouldn't have ample time to examine the content marketing portfolio of the marketing firm, which includes ad copy, videos, infographics, and ad banners.
They can create material that appeals to your target audience, which may attract new customers.
Marketing companies often have a thinking and working approach to get a sense of your team's intangible nature (unique style and creativity). They often use methods that are appropriate for your particular business. 
[Read: 10 Inspiring SEO Quotes to Apply To Your Healthcare Marketing]
It's Time to Outsource Your Medical Marketing Services!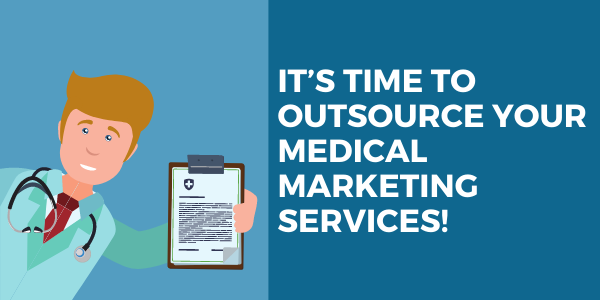 Outsourcing medical marketing has shown to be beneficial in managing time and expense restrictions, whether it is for medical direct mail, Google ads, Bing ads, patient support, or any other advertising work.
The unexpected surge in outsourcing in the healthcare industry is due to the several advantages it provides in terms of providing superior service to valued patients.
As a result, it has become critical in ensuring that people receive the best possible care.
Are you ready to automate or outsource some of your medical office operations in order to improve customer service and attract potential patients? 
Outsource a trusted and seasoned digital healthcare marketing team! They know exactly what to do with your marketing without you taking too much time on it! 
Digitalis Medical is an award-winning digital marketing agency that you can outsource for your healthcare marketing. You can trust us to do the job, just like how your patients trust you to do yours. 
Contact us today to discuss your marketing needs.
Do you have questions about outsourcing medical marketing services? Got any related stories to share? Leave us a comment below! Don't forget to share this article with your network as well!