We all know that search engine optimization is an effective way to increase your targeted audience. However, some may find it difficult and frustrating especially when they don't get their desired results.
As digital healthcare marketing professionals, it's significant to be more critical of our existing strategies. 
To get a fresh perspective and upgrade your existing healthcare marketing strategy, take a look at these evergreen SEO quotes from experts and influencers.
1. "Good SEO is paying attention to all the details that most bloggers ignore."
– Ryan Biddulph, Founder of Blogging From Paradise
Ordinary bloggers are so focused on delivering the content that their specific and defined audiences want, without optimizing for SEO. 
In that case, choose to be an extraordinary blogger. If you're going to create content for your website regularly, you might as well take the time to make sure Google takes notice of your effort. 
The healthcare SEO industry is competitive, but it's possible to outrank your competitors if you have an SEO-based, high-quality content mindset. 
Write for your patients. Create resources that link out to trusted healthcare sites. If you need to spend an additional 1-3 hours publishing an SEO-optimized blog post, do it. You'll see incredible results from targeted traffic, community, and brand-building perspectives.
2. "Today, it's not about 'get the traffic' — it's about 'get the targeted and relevant traffic."
– Adam Audette, Founder & President of AudetteMedia
Your search engine optimization campaign's goal isn't necessarily to rank #1 on search results but rather to generate leads and sales.
It's not about the traffic volume. It's about the content that converts well. Even though you only get a handful of monthly website traffic, if 10-20% of them get converted as patients, that shows Google that you are an expert in your healthcare niche.
Choose the right keywords to drive conversions. Organize them into two categories:
Buyer-intent (the searcher is most likely to be looking for a purchase)
Searcher-intent (the searcher is more likely to be just doing basic research)
To maximize your chances of driving leads and sales, focus your SEO efforts first on keywords that are relevant to buying intent. But don't ignore the searcher-intent. 
Find out the reason and purpose of Google's users for searching that keyword, so you can tailor your content to give them exactly what they're seeking.
Read this healthcare blog writing case study to learn more about creating healthcare content that drives traffic and converts more patients.
3."My rule of thumb is to build a site for a user, not a spider."
– Dave Naylor, Digital Director of Bronco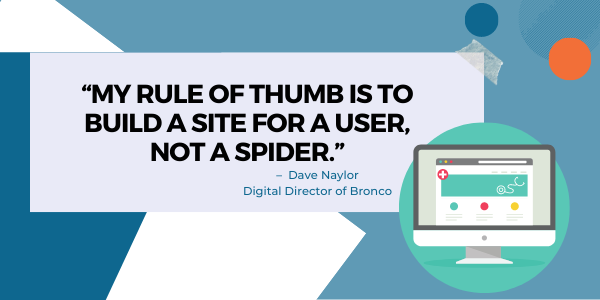 It is crucial to provide a great user experience. It doesn't matter how well-designed a website is if it's difficult to navigate, not accessible, and not user-friendly. You need to value page experience.
Design your healthcare website for your current and future patients. The slower your site loads, the more visitors you'll lose, and the less revenue you'll make.
Ranking #1 on Google is useless if your website doesn't convert that traffic into leads or sales because your target customers can't use your website.
4. "It's much easier to double your business by doubling your conversion rate than by doubling your traffic."
– Jeff Eisenberg, President, and CEO of EVR Advertising
Marketers often focus too much on traffic numbers, when in fact, it's not cost-effective.
You will need to invest more in SEO, advertising, social media, email marketing, and/or other marketing strategies to drive more traffic to your website. Despite all the effort and the tedious process, traffic numbers can still disappoint you.
Instead of worrying about doubling your traffic, focus on increasing and doubling your conversion rate. Value the traffic that is already there and be a more relevant brand for them. 
After all, your target market comes to your business from multiple channels (real world, social media, or email), so the strategic focus should be placed on keeping them onsite and converting them better.
Check out this medical practice marketing guide on how to convert more patients.
5. "Good SEO work only gets better over time. It's only search engine tricks that need to keep changing when the ranking algorithms change."
– Jill Whalen, Co-founder of Search Engine Marketing New England (SEMNE)
SEO Content Marketing is both difficult and rewarding because search engines like Google keep improving their algorithms to prioritize quality content.
However, you can still treat SEO as a valuable asset. You can follow the latest SEO tricks all you want as long as you continue creating content that your clients love. 
The ever-evolving healthcare SEO trends will not change the quality of content that your clients and users want to see. Great content is algorithm-proof.
6. "No website can stand without a strong backbone. And that backbone is technical SEO."
— Neil Patel, Co-Founder of Neil Patel Digital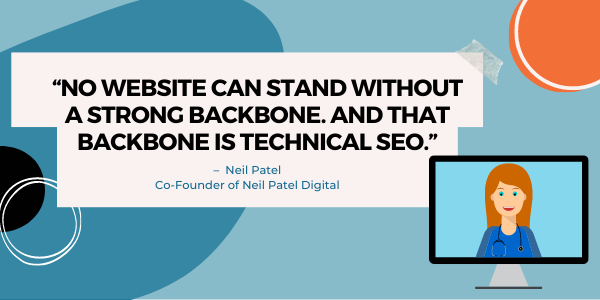 Although off-page SEO and on-page SEO are more flashy, technical SEO is the foundation for all other SEO efforts.
It includes optimizations behind the scenes like site architecture, page loading speeds, data markups, and mobile-friendliness. To learn more about the impact of technical SEO on your search engine rankings, check out this medical SEO guide.
7. "Unless there's no rhyme or reason to your keyword research, you need to know which opportunities will take the least amount of your limited resources to yield the highest ROI."
— Neil Patel, Co-Founder of Neil Patel Digital
Don't waste your time or resources trying to rank difficult keywords. This medical content marketing strategy won't work, even if it's all said and done. 
Be strategic. Concentrate on keywords that will give you the highest average return for your time and investment.
8. "Sadly, much of the content being published is simply not worth linking to. 75% of it is getting zero inbound links. So forget the 'more is better' approach to content if you want links. Go with quality instead. Your content will generate links only if it is truly remarkable, as Seth Godin would say."
– Brian Sutter, Marketing Director of Wasp Barcode Technologies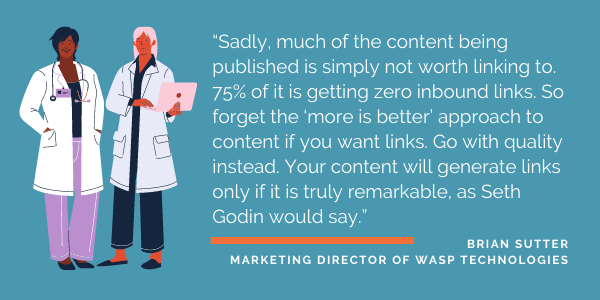 If you're going to spend your limited time creating content, make sure its quality is worth linking to. If users don't value your content, it's pointless creating a lot. 
To verify the credibility of your website, search engines love to see unique and high-quality backlinks to your site. Focus on creating outstanding content instead and you'll get the best return on your investment.
[Related: The Content Ocean Strategy: Turning 1 Article Into a Sea of Online Content]
9. "Sometimes the simplest and smallest of tweaks can help make the difference in your site's SEO performance. A website that ranks well, not only has great content, but each page will have a well-crafted title tag, headings, meta tags, and URLs."
– Matt Diggity, Founder of Diggity Marketing
This quote from the successful SEO expert and online entrepreneur Matt Diggity emphasizes the importance of an on-page SEO audit. An On-Page SEO Audit identifies problems in your content that hinder user engagement and confuses crawlers. 
Your pages will be more difficult to navigate if they are poorly optimized or lack headings and alt attributes. Clear page titles without the primary keyword can decrease click-through rates and make it harder for search engine bots to understand your content's purpose.
10. "Your [healthcare] facility's brand is its reputation. That starts with a modern, clean logo, and website that reflect the quality of service your team provides."
– David Sanchez, CEO of Digitalis Medical
A successful and effective search engine optimization campaign values the healthcare brand's identity. This is the visual identity of your facility – your messaging and visual elements that reflect your organization.
To influence the decision of your potential patient, you need to strategically use healthcare logos, symbols, and colors. SEO web design and content should go hand in hand too. Make sure to provide accurate and concise information about your facility, treatments, and services.
Step Up Your Healthcare SEO!
Above are just some of the evergreen SEO quotes from seasoned digital marketing experts that you may apply to your healthcare marketing. But remember, it's not about what these experts say and do. At the end of the day, it's about your efforts and what works best for your practice.
All the SEO quotes and advice won't help your healthcare practice grow and succeed without effective implementation. Step up your game by partnering with the right healthcare digital marketing professionals who can help you grow your business through results-based strategies.
We would love to hear your insights, experiences or answer any of your questions. Join the conversation in the comments section below!