A patient's journey to your medical practice begins with a simple click. Patients now turn to the internet to find healthcare services more than ever before. 
But having a website is just the first step; the real game-changer is local SEO for medical professionals. 
In this blog, we'll discuss local SEO and why it's an absolute game-changer in implementing medical marketing strategies.
What Is Local SEO?
Local SEO, short for Local Search Engine Optimization, is like a beacon for local patients. It's a specialized digital strategy designed to boost your visibility in local search results. The primary objective of local SEO is to attract patients from the local area actively seeking nearby healthcare services.
At its core, local SEO focuses on optimizing your medical practice's online presence for local searches. It's about ensuring that your website appears prominently in search results when potential patients search for services like yours within their immediate vicinity, often using phrases like "dermatologist near me" or "dentist in [city]."
The process involves various strategies and techniques that help your website rank higher in local search results, ultimately driving more local patients to your practice. By implementing local SEO for doctors, you increase the likelihood of appearing in the coveted Google local 3-pack, a prime spot that can significantly boost both your online and offline traffic.
Source: WebFX
The Importance of Local SEO for Medical Professionals
1. Reach More Local Patients
Local SEO ensures you're in the spotlight when patients in your area search for healthcare services.
In 2020, 93% of US consumers searched online to find a local business. For medical professionals, these numbers underscore the significance of local SEO. Without a robust local SEO strategy, you risk missing out on a substantial portion of potential patients in your immediate area.
2. Improve Your Site's User Experience
Effective local SEO can also enhance your medical practice's website user experience. By optimizing your website for local search, you can provide essential information such as operating hours, location, and available services, making it a breeze for potential patients to find and choose you.
3. Tailor Content to Your Target Patients
Local SEO empowers healthcare providers to create content that resonates with their local patient population. This tailored approach ensures that your website addresses the specific needs and interests of your community, which can lead to increased patient attraction and retention.
4. Build Trust and Authority 
Showing up in local listings and searches establishes you as a trusted local provider. It's the perfect way to make a stellar first impression, build your brand's authority, and ultimately, attract new patients.
5. Increase Revenue and Compete Effectively
An optimized local SEO offers numerous benefits, including higher search result rankings, increased conversion rates, and reduced marketing expenditure. Moreover, it positions your practice alongside competitors, allowing you to compete effectively for prospective patients within your area.
[Related: Guide to Crafting Effective Hospital Marketing Ideas]
Tips for Maximizing Local SEO Benefits for Medical Professionals
1. Optimize Your Google Business Profile Listing
Your Google Business Profile (formerly known as Google My Business) is your digital storefront. Claiming and optimizing it is your first step to success.
Here's how to do it right:
Claim and Verify: Claim your Business Profile listing if you haven't already. Verification typically involves receiving a postcard at your practice's address or a phone call. Once verified, you gain control over your listing.
Provide Complete Information: Provide comprehensive details, including your practice's name, physical address, phone number, email, and hours of operation. Ensure this information is accurate and up-to-date as most patients wouldn't book an appointment with a provider whose online listings were incomplete
Select Accurate Business Category: Choose the most relevant category for your practice, such as "Dentist," "Pediatrician," or "Chiropractor." Accurate categorization helps Google understand your services.
Upload Photos and Descriptions: Visuals and descriptions make your listing more engaging. Upload high-quality photos of your practice, inside and out. Include a brief but informative description of your practice. 
Encourage Reviews: Actively encourage your patients to leave reviews on your Google Business Profile listing. Positive reviews boost your online presence and credibility.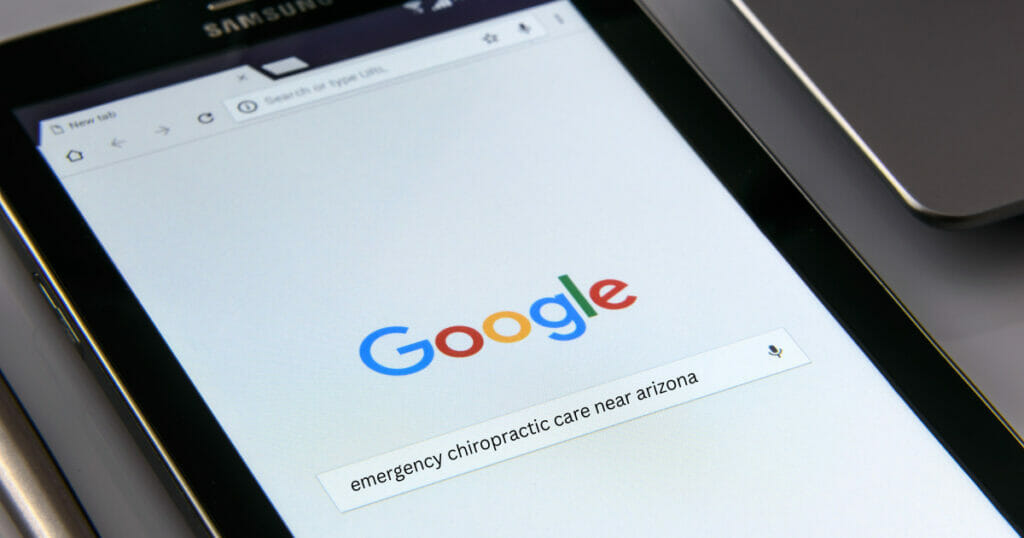 2. Use Local Keywords
Invest time in researching local keywords relevant to your medical practice. Tools like SEMrush and Ahrefs can help identify which keywords are gaining traction in your area.
Incorporate local keywords that include your city, state, or region into your website content, meta tags, and other elements. Conduct local keyword research to identify the phrases patients are using in your area, such as "dentist near me" or "pediatrician [city]." These keywords enhance your visibility in local search results. 
Don't forget long-tail keywords, which are specific phrases that reflect user intent. Examples include "pediatric dentist for braces in [city]" or "emergency chiropractic care near [location]."
3. Create Location-Specific Landing Pages
If you have multiple practice locations, develop separate landing pages for each one. Include the location's name, address, phone number, and unique content. Optimize the content, metadata, and URLs with location-specific keywords.
Geo-targeted landing pages enhance your website's visibility for users seeking services in specific locations.
4. Utilize Schema Markup
Implement schema markup on your website to help search engines better understand your content. This can result in rich snippets in search results, such as reviews, ratings, and hours of operation.
Use Schema.org's free tool to generate schema markups tailored to medical practices.
5. Build Local Citations
List your practice on general directories like Yelp, Bing Places, and specialized platforms like Healthgrades. Explore industry-specific directories and social media platforms that cater to healthcare professionals. The more citations you have, the better your local SEO.
Ensure consistent and accurate information across all online directories as minor discrepancies can impact your search rankings.
6. On-Page Optimization
Create a strong website optimized for local SEO. Display your clinic's name, address, phone number, and hours of operation prominently on your site. Ensure easy navigation, brand integration, clear contact information, and responsive design.
Create content relevant to your local community, such as health tips, community events, and local medical news. Use location-specific keywords throughout your content to enhance local SEO.
[Related: Six Ways To Boost Your Healthcare Website SEO in 1 Month]
7. Local Link Building
Acquire backlinks from local websites and entities to establish trust and authority in your locality. Engage in local discussions related to healthcare, write guest blog posts on local sites, and participate in local business directories.
Ensure the websites you build links from are relevant to your medical practice. Relevance is a critical factor in SEO. Get creative in your approach to local link building. The more innovative and community-centric your strategy, the more effective it can be.
8. Make Good Use of Business Profile Calls, Messages, and Posts
If you enable calls and messages through your Google Business Profile, ensure someone is available to respond promptly to inquiries. Neglecting this aspect can lead to negative experiences and reviews.
Likewise, leverage Google Posts to share updates, events, promotions, and healthcare services directly on your Business Profile listing. Keep posts current and relevant to engage with prospective patients effectively. While you have a 1500-character limit, only a few words are visible above the fold. Make every word count.
9. Set Health and Safety Attributes
In the post-pandemic world, patients are more concerned than ever about health and safety practices. Incorporate health and safety attributes in your Google Business Profile listing to reassure patients about your practice's compliance with safety standards.
Apart from essential attributes like temperature checks and mask requirements, consider including information about appointment booking and walk-in availability. You can add these attributes directly to your listing through your Google Business Profile.
Get more strategy ideas in our local healthcare SEO guide.
Is Doing a Local SEO Worth It?
Yes, investing in local SEO is worth it for medical professionals. It enhances online visibility, allowing you to reach a targeted local audience actively seeking healthcare services. Local SEO builds trust, offers a competitive advantage, and provides measurable results, making it a cost-effective and essential strategy to attract and retain patients.
While local SEO can be highly beneficial, it's essential to approach it strategically. Consider your specific goals, target audience, and competition when developing your local SEO strategy. 
Got any questions about doing medical SEO? Ask us in the comments section below!
Read our blogs for more SEO tips or get in touch with our team for a healthcare marketing consultation.