In any aspect of life, training proves to be a vital part of personal growth. 
For a workplace setting, training programs are implemented to improve employee performance, mitigate weaknesses, and establish a uniform and consistent system. 
The importance of training is magnified in the healthcare industry as medical practitioners deal with preserving lives on a day to day basis. 
Many medical institutions make the mistake of focusing on the sales aspect and relying only on preliminary training. 
To improve the quality of treatment that patients receive, doctors, nurses, and other medical staff should also continuously hone their medical practice skills. 
Quality customer service and patient experience can only be achieved by delegating the right training for your medical staff! 
In this article, we will talk about the process of delegating the appropriate training your medical staff will need to provide the best patient care experience! 
6 Steps On How To Delegate the Appropriate Training Program For Your Medical Office Staff
1. Secure an outline of government-mandated requirements for staff training
The healthcare industry has set a standard set of guidelines for the benefit of patients and medical practitioners.
It is essential to center the training program around the Health Insurance Portability and Accountability Act (HIPAA) guidelines and the Occupational Safety and Health Administration (OSHA) practice. 
The HIPAA focuses on training employees in privacy and security, while OSHA's goal is to provide training about safe work practices. 
Another category derived from recent government mandates is the Electronic Health Record (EHR) training to handle electronic records and technology use. 
On the other hand, a program established by the Affordable Care Act that aims to provide monetary rewards for high-quality service-providers paved the way for customer service training programs. 
Keep in mind that the specific skills appropriate for your staff to learn should be tailored around the guidelines mentioned above. 
You can use this information to produce a training plan based on the specific type of work, whether for handling medical records, assisting patients, or direct support in the execution of a particular medical practice. 
2. Evaluate the current staff regarding their skill level
Not all members of your staff have the same level of knowledge because of the difference in experience and background. 
Even individuals in the same group will have significant differences in performance despite being in the same practice.
By evaluating each staff or the group, you can create a comprehensive plan in which you can pinpoint where to focus training efforts and establish a baseline for measuring after-training results. 
Based on these, you don't have to focus your resources on training a staff member who is already an expert in the area or for someone who will never apply the skills they learned from the training. 
Instead, your training plan is centered heavily on the effectiveness of the skills learned when applied in the actual working environment. 
Your goal is to impart knowledge on what's new in the practice and update prior skills. 
3. Choose an appropriate training platform
The way the training is administered is also vital.
With many options to choose from, different delivery methods entail specific purposes, which may also be attributed to the employee's preferred medium. 
Among the possible choices are: 
Traditional reading materials
Hands-on work practice 
Supervised training
Outsourced employee training
Job-specific seminars
Interactive online learning 
Providing reading materials is best used when there are specific guidelines to perform or when remembering complicated terminologies. 
The hands-on approach can be performed using props or actual practice as long as it is safe and will not affect patient relationships. 
In a sense, supervised training is the same but with utmost guidance in every process provided by the assigned leader. 
Outsourcing is also recommended because hired trainers will focus only on the program, unlike a training approach wherein senior members teach their juniors. 
Some medical experts provide seminars on specific topics with the advantage of giving out certifications.
On the other hand, e-Learning provides convenience because videos and interactive resources can easily be accessed using technology.
Your chosen format might be any of the methods and will depend on your scheduling and budget. 
However, it is always best to combine techniques because it provides an opportunity to facilitate learning through different channels. 
4. Perform post-training evaluation
Once the training has been performed, skill assessments are essential to know how much your staff has improved. 
For evaluations, a lot of factors should be put into consideration, but primarily, the focus is on how well they can perform their specific task. 
The goal of a healthcare business should be to provide care to their patients. To achieve patient satisfaction, consider the following determining factors:
Staff members should be able to commit to the patient's overall safety.
Staff members should be able to perform within the patient's best interests.
Staff members should know how to organize data and be transparent about it.
Managers and supervisors must fully embrace a culture of prioritizing patients above all else to be role models to staff members.
Staff members should always be willing to be held accountable. 
Everyone in the organization should be aware that providing safe and quality service does not directly equate to an improved patient experience.
It's important also to note the changes in your staff's mindset regarding work and interacting with patients.
5. Create an assessment plan for the future 
Staff training must be continuous and consistent, which means follow-up training should also be planned.
With the use of the results of the evaluation, you can now start planning on delegating the next training for new skills or further development of the current practice.
You can also reshape the training of a new employee. Usually, training new hires entails explaining what to expect during actual work and its overall process. 
However, by planning for the future, training can now be tailored to allow your staff to grow in their line of work. 
Adopting a new training plan or improving the current materials is crucial. 
Staff re-assessment and evaluation should also be observed in place of these changes. 
6. Look and plan for cross-training opportunities
The purpose of cross-training is to impart knowledge on the skills that your staff can learn outside of their duties. 
In a medical office setting, it is incredibly beneficial to be able to provide help and backup to your colleagues. 
Being trained in other areas of your practice will also establish a sense of continuity and consistency in the service. 
Additionally, it will also be more comfortable for the patients to navigate the facility and increase your chances of leaving a good impression because of how well-defined the processes are.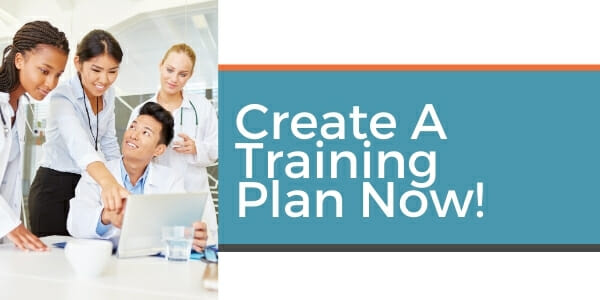 Create A Training Plan Now!
Proper delegation of staff training presents a lot of beneficial outcomes for your medical institution. 
The backbone of quality healthcare service is the patient's trust, which can be achieved when the organization is composed of medical professionals assisted by well-trained staff. 
As a practice manager, it is your responsibility to provide adequate staff training. However, do you know what's at stake if you fail to do so? 
For instance, failure to comply with any HIPAA guidelines is punishable with a $50,000 penalty and a damaged reputation in the healthcare industry. 
Establishing a solid relationship with patients may be vital, but an opportunity to grow inside the company is valuable for your staff. 
It provides them with the necessary skills and attributes to help your healthcare brand. 
Are you new to the medical business with aspirations to grow as a reputable healthcare provider? 
Are you an established owner looking for ways to improve your service and patient experience?
Achieve this by creating a comprehensive training plan and delegate the best programs for your office staff!
Your thoughts mean so much to us, so don't hesitate and leave a comment down below!